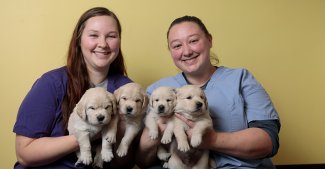 IN JUST FIVE YEARS, OHIO NORTHERN UNIVERSITY HAS GONE FROM TEST CASE TO HOTBED OF SERVICE-DOG TRAINING.
Of all the venerable qualities Ohio Northern University possesses, its "family atmosphere" is one that virtually every graduate can attest to. Many students come to a small private school like ONU for precisely that reason – to not just go to school, but to feel part of something. Some discover it once they are here. Still others only realize it after they've gone. But there is another kind of student that does more than join the family. There are those who make it stronger.
Jessica (Dunham) Brinkman, BA '15, is very familiar with ONU's family atmosphere, both figuratively and literally. The Dunhams are a legacy family at ONU. Mother Joyce (Diller) Dunham, BA '15, and older sisters Jaki (Dunham) Waggamon, BSBA '10, and Josie Dunham, BFA '13, preceded Jessica at Northern, blurring the lines between her ONU family and her actual one. Maybe this extra layer of connective tissue is why the youngest and eldest Dunham sisters hatched a plan to make ONU even more like the family they knew.
You see, for the Dunhams, a family atmosphere means more than just being close-knit and having someone there for you when you need them. A family atmosphere needs love and companionship, and it needs those things unconditionally and in abundance. In short, a family needs a dog.
The Dunham sisters grew up in a dog-friendly household. Their father, an officer with the Lima Police Department's K-9 unit, brought his work home with him in the form of Bern and Bren, two very large German Shepherds. In addition to tracking suspects or sniffing out drugs, these dogs were the family pets. But a working dog is very different from a typical pet, so Jessica and her sisters would go to training with their father so they could learn the proper commands and became "deputized" handlers within the confines of their home.
"WHAT PEOPLE PROBABLY DON'T REALIZE IS THAT A WORKING DOG IS NEVER REALLY OFF-DUTY," SAYS JESSICA. "THEY WOULD BE CALMER AT HOME, BUT THEY WERE STILL ON HIGH ALERT. MY FATHER WANTED US TO KNOW WHAT THEY WERE CAPABLE OF."
As they spent more and more time with Bern and Bren, the girls found themselves captivated by the dogs' sense of purpose and their capacity to serve. These formative experiences would stick with both Jaki and Jessica when it was time for them to have animals of their own.
In February 2013, Jaki was finishing her master's degree in public history/museum studies when she started thinking about getting a dog. She had gone without a dog in her life due to being in school. If there was one thing that didn't mix with being a college student, it was raising a puppy, right? And there were other considerations as well. The most obvious was cost. Dogs are expensive, and as her graduate program ended, the added financial burden of repaying her student loans would begin. And the second was whether or not she and her husband Nicholas Waggamon, PharmD '11, at such a busy time in their lives, really had the time a puppy would require.
As luck would have it, a solution existed just 20 minutes away. The nonprofit organization 4 Paws for Ability operated a service dog training program in Xenia, Ohio, that was always looking for responsible individuals to raise the puppies that eventually go on to become trained to serve humans with disabilities. Not only did 4 Paws for Ability take care of all of the costs associated with owning a puppy, the network of foster families meant there was always someone who could take care of the puppy if they had to travel. On paper, it sounded like an ideal situation for a dog-lover like Jaki who was just getting started with life in the "real world."
"It was super selfish, and I won't even pretend like it wasn't. I started with '4 Paws' because I love dogs and I wanted a dog. But I am still with '4 Paws' today because I love the people here and I love the program," she says.
Jaki has raised 13 puppies for 4 Paws for Ability, and she is also the permanent owner of Sam, one of the dogs in the organization's breeding program. In addition, she works part-time for 4 Paws as their social media manager and digital communications specialist. What began selfishly, as Jaki puts it, is now a true example of selflessness.
In spring 2013, after only a few months of puppy-raising, Jaki's interest in the organization was already growing. She learned that puppy-raising wasn't just limited to people like her in the community, but that many college campuses had 4 Paws for Ability-affiliated student organizations that train and socialize service dogs in training. At the time, little sister Jessica was finishing up her sophomore year at ONU, so Jaki made a phone call.
"When my sister found out that there were these '4 Paws' chapters at schools like the University of Kentucky and Ohio University, she was like, 'This would be perfect for ONU,'" says Jessica. "And I wanted a dog, so I said, 'OK, let's try it.'"
What followed was a coordinated effort by Jessica and Jaki to gain approval from ONU to permit Jessica to foster a service dog in training on campus. Armed with data from 4 Paws for Ability's various college programs, the pair pitched the idea to ONU first lady Chris Burns-DiBiasio, who was not only receptive to the idea, but also intrigued by the service component it would bring to campus.
"Jaki was a big help. She had spreadsheets and charts and all this information from the other colleges. We had two binders and we gave one to the first lady so she could look further into it and see if it was something she thought would be good for Northern. I remember her asking us what ONU would need to do as a college to allow students to achieve this goal. Even then, the University was looking for a way to say 'yes' – not an excuse to say 'no,'" says Jessica.
University approval came with conditions. Jessica had to seek the approval of her dean as well as every single professor she had in the upcoming semester since it was their classes that would be affected by the presence of a dog. When none objected, she and Jaki worked on the next steps, namely getting a puppy for Jessica to raise and train as a service dog in training.
Dosido, an 8-month-old golden retriever/lab mix, set foot on campus in September 2013 with Jessica at her lead. It didn't take long for her to become a bit of a sensation on campus. Professors and students alike couldn't get enough of her.
"I am very introverted, so it was hard for me to get used to dealing with the attention that came with having a dog on campus. Everyone got really excited when 'Dosi' would show up in class. It was a little overwhelming at times, but it was great for her, and I think it was ultimately good for me too," says Jessica.
All that attention is why 4 Paws for Ability has come to rely so heavily on college programs for their service-dog-in-training program. Today, they have 23 affiliated college programs. A key to a service dog in training's development is socialization, and college campuses offer a wide variety of events and social situations for the dogs to experience. Additionally, the dogs in college programs are assigned more than one handler, which is beneficial to both the dog and the students because, as Jessica can attest, it can be a lot for one person.
"There were times, like during midterms, when it was a little nerve-racking. My time management really had to change to accommodate Dosi. I went from being a sophomore who did whatever I wanted to having this tremendous responsibility," she says.
Anyone who has ever had a puppy knows how hard it is. Potty training, obedience training, waking up in the middle of the night to let them out – it can be a lot. And it is even greater with a service dog in training. But still, there wasn't a moment when Jaki didn't believe her little sister would be up to the task.
"My sister is super dedicated. You can have nothing else prepared for yourself when you go into a '4 Paws' program, but you have to be dedicated. It's not easy work, and she did a great job," she says.
It can't be overstated how important the training is at this stage for dogs that hope to go on to become service dogs. Beyond the socialization, the handlers train the dogs in basic commands using strictly positive reinforcement, and their efforts can determine if the dog passes on to advanced training. This is also the stage where a dog may develop a natural proclivity towards one of the service dog disciplines that 4 Paws for Ability trains dogs for, such as autism assistance, diabetic alert, mobility assistance, seizure alert, Alzheimer's assistance or facilitated guiding.
According to Jaki, there are definitive traits that some dog breeds have that make them more suited to certain types of training. For instance, breeds with a demonstrated heightened sense of smell can make for better alert dogs, which need to be able to smell the chemical changes within a human's body when certain medical situations occur. That's the science part. But Jaki believes that there is something else as well – a kind of magic that happens when a dog's skills click with what a child needs.
"THE MAGIC IS WHEN IT ALL COMES TOGETHER," SHE SAYS. "WHEN A CHILD WITH NO FRIENDS BONDS WITH A DOG AND HIS PARENTS GET TO WATCH THEM TAKE ON THE WORLD TOGETHER? WHEN STRANGERS APPROACH THEIR CHILD TO ASK ABOUT THE DOG INSTEAD OF STARING AT HIM OR DISMISSING HIM? WHEN THEY SEE THEIR CHILD ENGAGE FOR MAYBE THE FIRST TIME? THAT'S MAGIC."
Dosido went back to 4 Paws in November, having completed her socialization training at ONU. She was evaluated and deemed an excellent candidate to begin specialized training as a sanctioned seizure-alert dog. When the day came to take her back, Jessica asked her father to drive them both. She wasn't sure she'd be in any condition to drive back to school after saying goodbye.
"Giving her back was really hard, and when I think about it too much I still cry," says Jessica. "She was such a great dog, but I knew she was never mine to keep. She was mine to train so that she could help someone else. It is one of the most rewarding things that I will ever do in my life."
For both Jaki and Jessica, what started as the simple longing for canine companionship blossomed into something far more enduring. Since Dosido, ONU students have fostered 50 dogs on campus through 4 Paws for Ability and ONU Polar Paws. Officially formed as a student organization in 2014 by Lance Rice, BSME '17; Matt Garrity, BSBA '16; and Matt Stroh, BSCE '16, Polar Paws continues to be a prominent student group to this day, and ONU's family atmosphere is a bit cuddlier as a result.