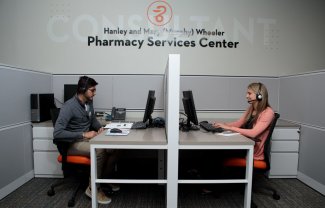 The Raabe College of Pharmacy participated in the ninth annual Script Your Future Medication Adherence Team Challenge earlier this year. The two-month-long intercollegiate competition spanned Jan. 20 through March 20, and challenged health profession student teams and faculty to find solutions that raise awareness about medication adherence as a critical public health issue. The challenge was hosted by the National Consumers League.
ONU's efforts to educate the public about medication adherence fell into three areas: community outreach, a social media campaign and a "letter to the editor" campaign, where students wrote about the medication adherence to their hometown newspapers.
As one might expect based on ONU's reputation for community engagement and high-impact learning, the community outreach initiatives took center stage during the challenge. ONU student organizations and outreach director Dr. Michelle Musser held a  total of 38 outreach events during the challenge. ONU Healthwise Mobile Clinic and ONU Healthwise Pharmacy also contributed, distributing materials throughout the challenge. In total, 443 students were involved with these events, serving for 245 hours and providing care to 1460 patients.
Additionally, during the Script Your Future Medication Adherence Challenge, students at the Hanley and Mary (Murphy) Wheeler Pharmacy Services Center had 322 medication adherence conversations with patients all over the country. Taken with community-based outreach events, this increases the reach of ONU's overall efforts to 1782 patients. One notable event was Azucar where ONU pharmacy, nursing and modern language students provided free screenings and education to over 100 Spanish-speaking patients in Columbus, Ohio, in February. This event was organized by the American Pharmacist Association organization.
"Community outreach is, at its heart, a win-win for students and the community," says Musser. "Students have the opportunity to apply their knowledge through a high-impact experience, which the community benefits from their service through improved awareness of key health concerns like medication adherence. Students providing care in the community also strengthens the relationship between ONU and the local community, laying the foundation for future collaborations.
The Script Your Future Medication Adherence Team Challenge will announce the winning schools in June.