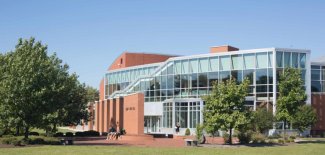 As a professor and administrator, Dr. Roger Goldberg dedicated his career to Ohio Northern University and to ensuring ONU students had the best possible educational experience. In acknowledgement of his passion for education, Dr. Goldberg's family has provided initial funding to create a scholarship endowment in his name to honor and extend his commitment to the university's students.
The Dr. Roger H. Goldberg Endowed Business Scholarship will support scholarships that will be awarded annually, beginning with the 2019-20 academic year, to students in ONU's Dicke College of Business Administration. Preference will be given to students with upperclassmen status and strong academic credentials who are involved in university organizations and activities, reflecting Dr. Goldberg's emphasis with students on the importance of having a positive impact on the university community.
During his career, Dr. Goldberg was known as an inspirational professor. As an economics faculty member, he held high standards for his students and pushed them to realize their potential. While known as demanding, he was approachable and took time beyond the classroom hours to mentor students and to share his gift of explaining complex economic theories in an understandable manner. He is often cited as a professor who made a difference, and his students always knew that Dr. Goldberg was their biggest supporter.
In recognition of his excellence as a teacher, Dr. Goldberg was awarded the prestigious Patton Chair in Economics.
In addition to being one of its leading faculty members at its inception, Dr. Goldberg played a leadership role in the establishment of a college of business administration at Ohio Northern in 1979. Today, the ONU Dicke College of Business Administration holds the highest business college accreditation possible, with its AACSB accreditation and is ranked highly by various publications for its teaching quality.
Dr. Goldberg also made an impact on the university as an administrator, first as assistant vice president of academic affairs before being named associate vice president of academic affairs. In this position, he continued to inspire students by establishing many programs that enriched the campus culture and expanded students' horizons, preparing them to compete in an increasingly global marketplace. This included Dr. Goldberg leading the development of the Honors Program, expanding study-abroad opportunities for students and development of international affiliations for the university, and growth of the international student programs on campus.
He was a valued colleague who was known for both his thoughtful insights and dry wit. An avid sports fan, Dr. Goldberg is a staunch supporter of ONU athletics, as well as a supporter of many youth athletic activities within the Ada community.
A native of New York City, Dr. Goldberg joined the university as a faculty member in 1969. He retired in 2010 and was named associate vice president of academic affairs, emeritus, and professor of economics, emeritus, in 2011. He was awarded the Pinnacle Award, which recognizes, leadership, legacy and giving to Ohio Northern as well as the ONU Dicke College of Business Administration.
"With his dedication to the success of our students and commitment to further fostering a sense of community on campus, Dr. Goldberg represents the spirit of Ohio Northern University," said ONU Vice President for Advancement Shannon Spencer. "This scholarship endowment continues his legacy by helping future students benefit from the high-quality Ohio Northern educational experience that Dr. Goldberg helped to craft."