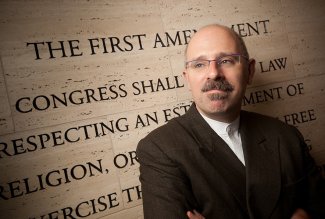 Tom Ginsburg, Leo Spitz professor of international law at the University of Chicago, will deliver the Kormendy Lecture at 4 p.m. on Feb. 13 in the large moot courtroom in the Ohio Northern University Pettit College of Law. Ginsburg will discuss "How to lose constitutional democracy – and how to save it."
During his talk, Ginsburg will explore whether the United States is at risk of democratic backsliding and if the Constitution can prevent it. As he notes, to some, the 2016 election campaign brought this question to the forefront, while to others, the election represented a populist accountability movement against an unresponsive elite.
Ginsburg will draw on comparative law and politics to explore the state of constitutional democracy in the United States.
He currently co-directs the Comparative Constitutions Projects, a National Science Foundation-funded data set that catalogues the world's constitutions since 1789. Before teaching law, Ginsburg served as a legal advisor at the Iran-U.S. Claims Tribunal, The Hague, Netherland. He has also consulted with numerous international development agencies and governments on legal and constitutional reform. Ginsburg currently serves as senior advisor on constitution-building to International IDEA (Institute for Democracy and Electoral Assistance).
Books he has written or co-written include "Judicial Reputation: A Comparative Theory" (2015), "The Endurance of National Constitutions" (2009) and "Judicial Review in New Democracies" (2003).
Ginsburg earned his bachelor's degree, juris doctorate and Ph.D. from the University of California at Berkeley.