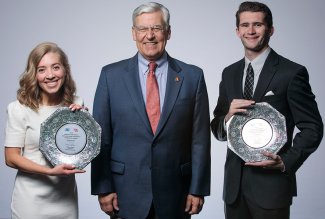 Ohio Northern University presented Dankook Awards to graduating students Olivia Henton and Derek Price during recent commencement ceremonies.
Henton, who earned a PharmD, is from Olmsted Falls, Ohio, and graduated from Olmsted Falls High School. Price, who earned a bachelor's degree in political science and psychology with a minor in international studies, is from Manasquan, N.J., and graduated from Colts Neck High School.
The award recognizes two ONU students with outstanding records in academics, student leadership, co-curricular activities and service. Presented since 1974, the Dankook Award is an annual reciprocal award exchanged between Dankook University in South Korea and ONU.
During her ONU career, Henton was president of Pharmacy Council and held offices with Pharmacy and Wellness Review, Rho Chi honorary, President's Leadership Dessert, Northern Without Borders and Mortar Board academic honorary. She also was a member of Kappa Psi and the honors program. Henton is currently a post-graduate year one (PGY1) pharmacy resident at OhioHealth Riverside Methodist Hospital in Columbus.
While an ONU student, Price was recognized with a DeBow Freed Award for Outstanding Student Leadership Award and as a Newman Civic Fellow in addition to being a member and social chair of Phi Mu Delta fraternity and a member of ONU Student Senate. He will pursue a master's degree in international relations from the University of Chicago.