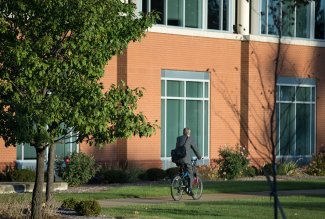 Four recent graduates of the Dicke College of Business Administration at Ohio Northern University will share their career and life stories during a panel discussion, "The First Five Years," from 2 p.m. to 3 p.m. on Sept. 10 in the forum of James F. Dicke Hall.
The event, which is free and open to the public, is part of Executive Week, an annual event at ONU during which ONU business students have opportunities to interact with professionals in the field to gain their insights.
Panel discussion participants:
Rob Roll, a 2013 graduate in accounting and finance, is a tax senior at GBQ Partners.
Elissa McCracken, a 2015 graduate in pharmaceutical and healthcare business, is a pharmacy retail operations consultant with Cardinal Health.
Andrew Mitcham, a 2017 graduate in accounting and management, is a customer success associate at OnShift.
Elizabeth Patterson, a 2017 graduate in pharmaceutical and healthcare business, is pursuing a master's degree in higher education administration at Kent State University.