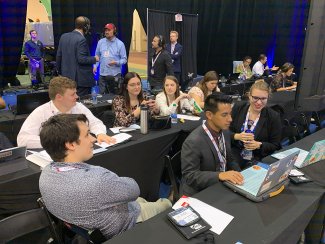 By Alex Dyke
Senior, Professional Writing Major
Covering Democratic Presidential Debate a valuable high-impact learning opportunity for students from multiple media perspectives.
 
Imagine how thrilling it must feel for a football player to play in the Super Bowl – the ultimate level of competition and prestige in their sport. That's the equivalent of how several ONU students felt while attending the Democratic National Committee Presidential Debate on Oct. 15, 2019, at Otterbein University in Westerville, Ohio.
High-impact learning is nothing new to Ohio Northern University students, but at the October 2019 Democratic Presidential Debate, seven students representing ONU3-TV, WONB Radio and The Northern Review had the chance to do some high-impact work, covering the debate alongside national journalists like CNN's Jake Tapper and Chris Hayes of MSNBC.
Students who went to the event included Mara Guyton, working with ONU3-TV; Cassandra Krencisz, a political science and communications double major; Andrea Hoffman; Alexander Tvaroch and Ryan Kelley, who both work for WONB Radio; Kayla Fisher, news editor of The Northern Review; and Nathan Grizenko, editor-in-chief of The Northern Review. Dr. Shane Tilton, assistant professor of multimedia journalism, accompanied the students.
The students did most of their work in what is called the "spin room," which is a designated place where journalists can interview politicians and/or their representatives after a debate or any other political event.
This event offered a unique, once-in-a-lifetime experience for the students who were able to attend. 
"It was an experience that I will never forget," says Guyton. "The feeling of walking into the spin room and knowing that everyone is there for the same reason is an emotion I do not think I will feel again… It was reassuring to see so many journalists continue to work hard to get the truth out to the public."
Krencisz likened the experience to "a version of the Super Bowl for me." Seeing and interacting with politicians and key figures, observing the spin room and even sitting in the media room were all surreal experiences.
"Being a political science and communications major, having the opportunity to go to the Democratic Debate at Otterbein was the pinnacle of my college career," she says. "It was a perfect mix of politics and communication, being immersed in the political atmosphere where I could write and observe practices with professionals from both fields… As a senior, it feels like the debate experience was the exact situation that I have always been preparing for in college: being able to communicate what is happening in politics to the community." 
The nature of political debates allows people with different backgrounds, experiences and future goals to be able to come together to work on the event. Students with interests in political science get firsthand experience in the political world. Students in communication (ranging from television, radio/podcasting and newspaper journalism) also get another facet of the experience – being able to report what happens in these events.
"I've become more politically aware over the past few years, so I was ecstatic when I learned of the opportunity to attend the event," says Grizenko. "At ONU, I've been afforded so many opportunities to see and do things that I never thought possible. Being involved in journalism as the EIC of The Northern Review has allowed me to pursue my passion for storytelling…Dr. Tilton has helped me improve my writing skills over the years, and he keeps coming up with new ways to help us expand our knowledge and improve our skills…The debate has a unique atmosphere that does not compare to any other setting you may find yourself in as a young reporter. It's dynamic, loud, exhilarating…As a journalist, you have to ask the right questions because there are no second chances—especially in the spin room."