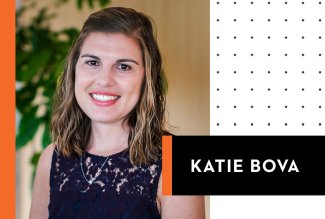 As pharmacists across the U.S. begin to receive doses of COVID-19 vaccine to administer to patients, we meet one who helped develop it.
When Americans roll up their sleeves in the coming months to receive a COVID-19 vaccine, there is a good chance that a pharmacist will be the health care professional to administer it. In recent years, more and more states have granted approval for pharmacists to administer some of the most common vaccines in retail pharmacy settings. A recent survey of retail pharmacists by the American Pharmacist Association revealed that 74 percent of those surveyed are willing to order and administer the COVID-19 vaccine.
But when it comes to the COVID-19 vaccine and pharmacists, that's just part of the story. Not all pharmacists work directly with patients in the retail or hospital setting. Pharmacists working in clinical research, like Katie Bova, PharmD '18, work to develop new drugs and therapeutics, including vaccines.
If the name Moderna sounds familiar, it's likely due to the fact that it is the name of one of the companies working to gain U.S. Food and Drug Administration approval for a COVID-19 vaccine. In her role on the research and development quality team at the biotech firm, Bova worked to ensure the integrity of the clinical trials for that vaccine.
"When I accepted my position back in February, the coronavirus had yet to spread across the globe. I joined Moderna to develop new therapies and vaccines, but I had no idea one of my first projects would be to work on such a critical vaccine."
Bova first became interested in clinical research during an internship with the Investigational Drug Service (IDS) at The Johns Hopkins Hospital the summer after her P4 year. She continued to explore clinical research throughout her rotations during her final year in ONU's PharmD program. Upon graduating, Dr. Bova accepted an industry fellowship at the pharmaceutical company Novartis, which enabled her to take an active role in bringing new therapies to patients through clinical research and development.
During any drug development process, a clinical quality team like the one Bova is a part of at Moderna is tasked with the quality oversight of clinical research to ensure data integrity and to protect the rights, privacy and safety of all participants. It is responsible for issue management and proactive process improvement for clinical trials, as well as health authority inspection preparation and management. Additionally, the quality team handles vendor and clinical site quality oversight and conducts audits when necessary. Clinical development is a major field within the pharmaceutical industry, and according to Bova, one that is particularly applicable for pharmacists who bring clinical knowledge, critical thinking skills and a patient-centered approach to new therapies.
"Obviously our work on the vaccine has been exciting and important," she says. "But the development of all of the COVID vaccines has also been a great opportunity to educate the public about clinical drug development. There's a lot that goes into taking a drug product from phase I to phase III, and through the FDA approval process. And, there are a lot of people like me whose job it is to make sure those steps are done appropriately and that the product is safe."
Bova chose to accept her position at Moderna because of their robust pipeline of diverse vaccines and therapies. She was especially excited about the ability to use the messenger RNA (mRNA) platform to treat rare diseases and cancer – and that was before it was employed in the COVID-19 vaccine development. The pressing global need for a COVID-19 vaccine, coupled with the speed at which the existing vaccines have been developed and approved, has created a kind of mythos that the development and approval of the COVID-19 vaccines are somehow different from other vaccines or drug products. They're really not. The difference has been the amount of time and resources allocated to these projects, and the sheer will of scientists like Bova who understand the stakes and have worked tirelessly to do their jobs at the absolute highest level because of it.
"I have worked with many clinical trial teams and on many new drug submissions, and the COVID vaccine project has been unique because we are seeing the impacts of the pandemic every day in our communities," says Bova. "My sister Sarah and my friends from ONU are pharmacists caring for patients during this pandemic. In most states, frontline health care professionals will be the first people to be vaccinated, so I think about that a lot."