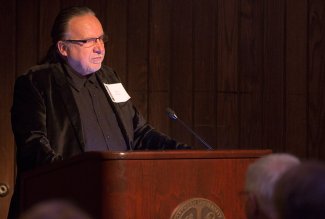 Ohio Northern University Professor of Communication Arts Emeritus Nils Riess has been awarded the Order of the Cross of Terra Mariana from the Republic of Estonia.
The Republic of Estonia bestows as gratitude and recognition various state decorations on persons whose activities have maintained and reinforced the independent Estonian state. Riess has been chosen as a recipient of this award in recognition for the contributions he has made for the republic.
Riess, a native of New York City, was chair of the Department of Communication Arts and served as head of the University's fine arts division. He was instrumental in planning the design and construction of the Freed Center for the Performing Arts. Riess has experience as a professional actor, director, stage manager and consultant in arts education, and he is an associate member of the Society of Stage Directors and Choreographers.
He has served on theatre and dance advisory panels and as an on-site theatre and dance evaluator. During his tenure at ONU, he expanded the theatre program to include a dance minor, a BFA in musical theatre, a guest artist program and an international studies program. In addition to founding the International Play Festival, he has hosted numerous international artists and facilitated student study programs and internships throughout the world.
The Order of the Cross of Terra Mariana was instituted in 1995 to honor the independence of the Estonian state by president Lennart Meri. The Order of the Cross of Terra Mariana is bestowed upon the president of the republic and is given as a decoration of the highest class to foreigners who have rendered special services to the Republic of Estonia. As such, it is the highest and most distinguished order granted to non-Estonian citizens.