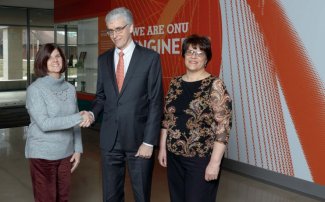 Ohio Northern University has been awarded a $20,000 grant from the PPG Foundation on behalf of its coatings services facility located in Lima. The funds will support the ONU Smull College of Engineering's STEM (science, technology, engineering and math) activities by expanding participation in the TEAMS competition hosted by the college.
With the grant funding, PPG will become the primary sponsor of the annual TEAMS (Tests of Engineering Aptitude, Mathematics and Science) competition. More than 60 high school teams are expected to participate in the 2020 edition of the TEAMS competition, which focuses on collaboration and problem-solving, skills that are valued in engineering education and the profession.
This year's competition on Feb. 27 will mark the 41st time ONU has hosted the event. This year, the competition will be held in ONU's $30 million James Lehr Kennedy Engineering building, which opened in fall 2019. Previously, it was held in the ONU Sports Center.
Among other purposes, the grant funds will allow for the participation of 10 teams from five underserved schools that have previously not been able to take part in the competition, subsequently increasing the diversity of participants. In all, it will allow for up to an additional 80 students to have this career-enhancing opportunity. Currently, approximately 420 students participate in the competition, and the grant will allow for increasing that number to around 500 students.
"This grant will allow more students to have the opportunity to participate in this event, which focuses on developing the critical-thinking skills, problem-solving and teamwork that are important in the field of engineering," ONU College of Engineering Dean John-David "J-D" Yoder said. "We are excited to partner with PPG as we continue, and expand, our work to host the TEAMS competition. This is one of several programs we do to help increase the number of young people in our region interested in STEM so that they can go on to fulfilling careers."
PPG: WE PROTECT AND BEAUTIFY THE WORLD™
At PPG (NYSE:PPG), we work every day to develop and deliver the paints, coatings and specialty materials that our customers have trusted for more than 135 years. Through dedication and creativity, we solve our customers' biggest challenges, collaborating closely to find the right path forward. With headquarters in Pittsburgh, we operate and innovate in more than 70 countries and reported net sales of $15.1 billion in 2019. We serve customers in construction, consumer products, industrial and transportation markets and aftermarkets. To learn more, visit www.ppg.com.
We protect and beautify the world is a trademark and the PPG Logo is a registered trademark of PPG Industries Ohio, Inc.