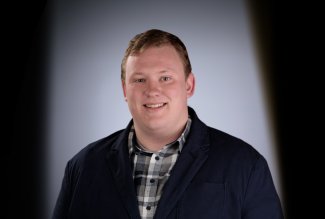 In recognition of his community engagement, Ohio Northern University student Benjamin Fink of Akron, Ohio, has been selected as a Newman Civic Fellow. Fink is among 268 students nationwide to earn the one-year fellowship, which is sponsored by Campus Compact, a group working to advance the public purposes of higher education.
Fink, a junior from Revere High School, is majoring in political science.
In his nomination, ONU President Daniel DiBiasio noted, "Ben is a bright and engaging young man. He has shown great ambition and leadership on campus, participating in multiple facets of campus life."
Despite the academic, social and civic responsibilities he upholds, Fink has found one specific opportunity that greatly influenced his outlook on life. DiBiasio continues:
"Last summer, Ben began volunteering at the Akron Rotary Camp, specifically, the Respite Program, which provides opportunities for adults and children with special needs to enjoy weekend and day-long retreats…The camp's mission statement involves, in part, 'A world where there are only abilities.' Ben is known for having a passion for this outlook on the world around him, and he wants to improve it in every way he can. He shares his 'camp stories' with those at Northern and encourages his fellow classmates and fraternity brothers to step outside their own comfort zones and explore volunteering in their communities as well."
An example of DiBiasio's description of Fink can be found when Fink encouraged six of his fraternity brothers to accompany him to the Portage Lake Polar Bear Jump, an event held at Akron Rotary Camp to raise money by having volunteers jump into a freezing pond. Fink contacted alumni for sponsorship, and he and his brothers attended the service event, which raised more than $1,200 for the camp.
"Akron Rotary Camp motivated me to give back to my community," Fink said. "That job gave me perspective about what's important and showed me what matters in life. After working there, I feel I have an obligation to give back, and I'm happy to do so."
Fink has pursued a well-rounded college career, and he has been engaged in the University and local communities. He serves as the vice president of recruitment for his fraternity, Sigma Phi Epsilon, and participates in Model United Nations. He also is the co-captain and club secretary of ONU's Black Rose Rugby Club. Furthermore, Fink works in the Office of Advancement as a student caller, where he speaks with alumni about their experiences at ONU and encourages them to give back to the University.
"In my leadership positions, I have learned that you need to be a role model. These opportunities have taught me the importance of putting others first, and I believe it has made it easier to put in the extra mile for my team and fraternity."
Fink first came to ONU after speaking with the chair of the political science department, Robert Alexander, who interested him in the field. He realized that his passion for discussing current events and politics would apply well in this major, and the small-school setting suited him. He continues to work at Akron Rotary Camp on certain weekends throughout the school year.
"I may be the recipient of the Newman Civic Fellowship, but this honor should extend to every person I worked with at Akron Rotary Camp," Fink stated. "They are selfless, caring and absolutely wonderful people. I wouldn't be here without that camp and its employees."
Campus Compact member presidents and chancellors are annually invited to nominate one community-committed student from their institution for the fellowship. These nominees are individuals who have demonstrated an investment in finding solutions for challenges facing communities throughout the country and abroad.
The 2018 Newman Civic Fellows will be provided a variety of learning and networking opportunities through Campus Compact. The fellowship also provides fellows with pathways to exclusive scholarship and post-graduate opportunities.
The Newman Civic Fellowship is supported by the KPMG Foundation and Newman's Own    
Foundation.
Fink is the fourth ONU student to win this prestigious honor. Zachary Bragg was a 2017 recipient, Derek Price was a 2016 recipient, and Amanda Liebrecht was a 2015 winner.