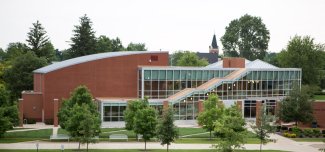 ONU students use tech to pitch high-tech ideas
In a semester turned upside down due to the COVID-19 pandemic, it's no surprise that the annual ONU Polar Elevator Pitch competition — the Dicke College of Business Administration's entrepreneurship showcase — figured out how to not only survive while other events were being canceled, but thrive.
The traditional Polar Elevator Pitch event puts the onus on students' charisma and persuasive abilities as they present their ideas for a product or service in person. Students are allotted two minutes to sell their idea to a panel of faculty, students and members of the local business community. Think of it as ONU's version of the popular television program "Shark Tank." The competition is hosted by the Northern Entrepreneurs Organization and supported by The Kern Family Foundation as part of the Kern Entrepreneurial Engineering Network (KEEN) program.
But clearly, an event requiring a large number of people to be in close confines of one another was never going to happen due to the pandemic, so Kevin Ernst, assistant professor of management, quickly decided to break one of the ONU Polar Elevator Pitch competition's golden rules to allow the students this opportunity to hone their skills.
"The elevator pitch competition is first and foremost about the pitch. It is such an important skill for young entrepreneurs to develop. You can have the best idea in the world, but if you can't convince someone that your idea is worthwhile, serves the public interest and can be profitable, you won't get very far," he says. "That's why we have prohibited electronic media in the past. Students need to be in the moment during their pitch and not just push play on a video. But obviously, this year is different."
The elevator pitch competition this year was moved completely online to accommodate the students and judges. In addition to the reversal of the electronic media stipulation, other competition guidelines were revised as well. Instead of students having two minutes to prepare and deliver a concise oral presentation of a new business or product idea, they submitted YouTube videos of their ideas. Entrants then met with judges via video conferencing to answer questions and receive feedback.
In some ways, utilizing technology to host the ONU Polar Elevator Pitch competition was even more on-brand than ever, as so many of the student projects utilized cutting edge technology. The winner of this year's competition, senior mechanical engineering student Zane Myers, worked with Ohio's Space Grant Consortium to develop Project DEPTH (Drone Equipped Temperature Probing Hardware). His drone-mounted equipment can record water temperature readings at user-specified depths over bodies of water. The readings can be used to create temperature maps that may be able to predict harmful algal blooms in the Great Lakes.
A team of students placed second in the competition with an equally high-tech idea. Kevin Edwards, a sophomore mechanical engineering student; Schon Loesch, a freshman mechanical engineering student; George Rak, a freshman mechanical engineering student; and Aaron Smith, a sophomore mechanical engineering student, presented a solution for charging cell phones and other low-wattage devices with electricity present in soil.
Bryan Peck, a senior electrical engineering, physics and applied mathematics triple major, placed third in the competition with his method of digitally pacing runners during practice to help them improve their training. He intends on commercializing his product within the next year.
In total, the 2020 ONU Polar Elevator Pitch competition saw the involvement of 253 total students (individuals and teams) with ideas for products or services that met the competition's product categories: Ideas that improve society, high-tech commercialized product ideas, new businesses that create jobs, and "as-seen-on-TV" product ideas. In addition to all the amazing, innovative products and ideas, the competition proved once again that the entrepreneurial mindset is alive and well at ONU, and ready to meet any challenge.