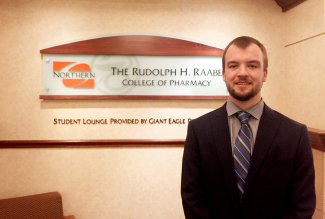 Eric Eisenmann, a current fifth-year pharmacy student and a 2015 ONU pharmacy graduate from Broadview Heights, Ohio, was selected to receive a 2015-16 fall graduate research grant from Psi Chi, the international honor society in psychology, for $1,500.
Eisenmann received the grant for his submission "Effects of a High Fat-High Carbohydrate Diet on Cardiac Susceptibility to Ischemic Injury in a Rodent Model of Post-Traumatic Stress Disorder (PTSD)." Using a rodent PTSD paradigm developed by research adviser and associate professor of psychology Dr. Phillip Zoladz, the two will lead Dr. Zoladz's animal neuroscience laboratory in examining the effect a high-fat, high-carbohydrate diet has on stressed rodents.
Then, in collaboration with associate professor of pharmacology Dr. Boyd Rorabaugh, the sensitivity of these rodent's hearts to induced injury will be assessed. This study hopes to shed light on the mechanism underlying the negative cardiovascular outcomes seen in human PTSD patients by examining whether a model of this disorder in rodents and a high-fat, high-carbohydrate diet are synergistic in their detriment of the cardiovascular system.
Eisenmann said, "I would like to acknowledge the professors who provided me with the opportunity to perform this research and be honored with the grant. It would not have happened without their help."
This is the second grant Eisenmann has received through Psi Chi. The first was a 2015 Spring Undergraduate Research grant for "The Effect of Caffeine Withdrawal on Spatial Learning and Memory," also for $1,500.