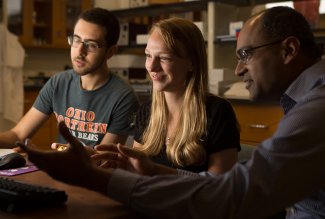 A significant percentage of graduating Ohio Northern University pharmacy students are pursuing post-graduate training and have matched into prestigious programs through the 2018 American Society of Health-System Pharmacists (ASHP) Resident Matching Program (the "Match"). Match results are based on National Matching Services (NMS) data posted on April 12.
For the upcoming class of 2018 graduates, 60 students will pursue post-graduate year one (PGY1) studies beginning in the fall. This represents roughly 40 percent of the 149 students who will earn a doctor of pharmacy (PharmD) this spring. This class of ONU pharmacists boasts the seventh-highest number of graduates matched for residency training in the country.
The students will pursue their upcoming academic endeavors at institutions in 17 states. Two of the eight PGY1 residents accepted at Johns Hopkins University in Baltimore, Md., this fall will be ONU graduates. Among other institutions where ONU pharmacy graduates will be enrolled in post-doctoral studies are the Cleveland Clinic, Ohio State Medical Center, the University of Arizona and 11 Veterans Administration facilities across the country.
Senior students were not the only ONU group to place well in the match. A total of 20 graduates from the class of 2017 were matched or accepted into post-graduate year two (PGY2) programs, bringing the total to 80 pharmacy alumni in post-graduate residency training beginning in July.
"The graduating class of 2018 represents the highest percentage of our graduating class to choose post-graduate training," said Steven J. Martin, dean of the ONU College of Pharmacy. "These post-doctoral success rates speak to the effectiveness of the college in providing students with high-quality academic experiences that allow them to stand out among their peers."
"Our faculty members are educators who enjoy interacting and mentoring students, and many have substantial experience in the field, which they share with our students. We focus on offering students a high-impact education that prepares them for the many career options available to pharmacists in this competitive health care economy," Martin said.
The unique direct-entry, six-year ONU pharmacy program blends classroom and laboratory learning with practical experiences that allow students to engage with patients and the underserved of the community as part of a high-impact approach to education.
The college recently launched the ONU HealthWise Pharmacy and rural mobile health clinic, which provide ONU pharmacy students with exceptional hands-on learning and serve the region by offering area residents access to high-quality health care.