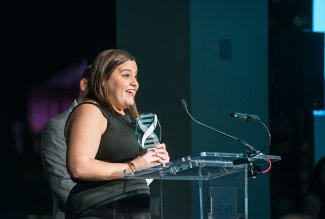 Ohio Northern University faculty member Amy Fanous received the 2018 Civic Leader Award during the recent Next-Generation Pharmacists ceremony in Boston, Mass. Fanous, who earned her PharmD from ONU in 2012, is director of the Ohio Northern University HealthWise Mobile Clinic.
The Civic Leader Award is presented to a pharmacist who donates his or her time and resources with the principal objective of improving the community in which he or she resides and/or the pharmacy operates, and whose vision is related to pharmacy care and the health outcomes of the community.
"My vision for the pharmacy profession is for pharmacist-provided services to continue to expand," Fanous said. "Additionally, I would like to see more people have access to pharmacist-provided services, particularly those in medically underserved areas."
Fanous says her greatest achievements in pharmacy are directly related to her work in the ONU HealthWise Mobile Clinic. "It is both an honor and a privilege to have the opportunity to provide quality health care to the medically underserved in my community," she said.
The Next-Generation Pharmacist Awards is a national program that salutes pharmacy professionals who are defining the industry's future. Pharmacy Times and Parata Systems are the cofounders of the prestigious awards program, which recognizes pharmacy leaders across a range of practice settings who embody the innovation and inspiration in pharmacy and the future vision of the profession.