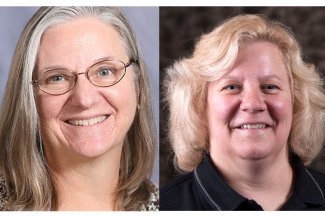 Two Ohio Northern University Raabe College of Pharmacy faculty members and one ONU alumnus were voted to the 2016 American Society of Health-System Pharmacists (ASHP) House of Delegates.
Dale English II, who graduated from ONU with a Bachelor of Science in 1993 and a Doctor of Pharmacy in 2005, and Mary Ellen Hethcox, director of ONU's Drug and Health Information Center and assistant professor of pharmacy, were elected junior delegates to serve two-year terms.
Karen Kier, a 1982 ONU graduate and ONU professor of clinical pharmacy and director of assessment, returns as a senior delegate to complete her term.
"We are so proud of Karen and Mary Ellen; they embody what we teach to our pharmacy students about advocacy in the profession of pharmacy," said Steven J. Martin, dean of the College of Pharmacy. "They are great role models for our students and ambassadors of our program. We know they will do great things for ASHP in their delegate roles. I would also like to congratulate ONU alumnus Dale English on his appointment to the ASHP House of Delegates. He is a great representative of the ONU pharmacy program and has done a lot to promote the profession within his roles as a pharmacist and pharmacy educator."
The Ohio Society of Health-System Pharmacists (OSHP) is responsible for conducting the election of Ohio's five ASHP delegates.
Kier said, "Representing the pharmacists in the state of Ohio and OSHP as a delegate is a wonderful honor. Being current on the issues that affect our profession is a vital component of being a delegate. The delegate is responsible for helping to vote on issues that impact our profession and its direction. As a senior delegate, I am so excited to have a Mary Ellen Hethcox joining the delegate team. She has a diverse background within pharmacy, and she will provide insight into the issues affecting pharmacists every day."
As a delegate, Kier hopes to represent Ohio pharmacists at the national level and impact the future direction of the profession. "I am excited to be a part of the House of Delegates in a year that honors ONU alumnus John Armitstead as the ASHP president," she says.
The House of Delegates is the ultimate authority over ASHP professional policies, which express the Society's stance on important issues related to health-system pharmacy practice and medication use in society. The House of Delegates meets annually at the ASHP summer meetings and virtually in March and November, when it reviews policy proposals that have been approved by the board of directors.