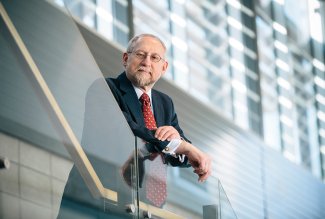 Paul Finkelman, Ph.D., will discuss the origins of the Second Amendment at 4:15 p.m. on April 5 in the Celebrezze Moot Courtroom (room 129) at the Ohio Northern University College of Law. The talk, which is part of the ONU Law Dean's Lecture Series, is free and open to the public.
The title of Finkleman's talk is "Did James Madison really think you should own an AR-15, a bump stock or an assault rifle? The original meaning of the Second Amendment." He will explain how the Second Amendment was not intended to protect an individual's right to own a firearm but was about a "well-regulated militia." However, people still have a right to go hunting, according to Finkelman. Finkelman is president of Gratz College in Melrose, Pa. He received his B.A. in American studies from Syracuse University in 1971 and his Ph.D. in history from the University of Chicago in 1976. Finkelman was later a fellow in law and humanities at Harvard Law School.
Finkelman is the author of more than 200 scholarly articles and the author or editor of more than 50 books. His work has been cited in four decisions by the United States Supreme Court, by numerous other courts and in many appellate briefs. He has lectured on slavery, human trafficking and human rights issues at the United Nations, throughout the United States and in more than a dozen other countries.