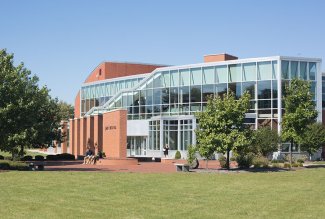 An upcoming panel discussion at Ohio Northern University will take a multi-faceted look at the heroin problem that continues to wreak havoc. "The heroin epidemic: Responses of law enforcement and health care professionals" will be held at 7 p.m. on April 5 in the Forum of James F. Dicke Hall. It is co-sponsored by the University's Department of Psychology, Sociology and Criminal Justice and the Department of Nursing.
Panelists include Steve Christopher, judge for the Hardin County Court of Common Pleas, Probate and Juvenile Division; Ken Fox, M.D., emergency room physician at Joint Township District Memorial Hospital in Saint Marys, Ohio; Keith Everhart, Hardin County sheriff; and Wade Melton, director of programs for the Hardin County Juvenile Court.
The program is free and open to the public.
"The heroin epidemic is becoming a plague, and we need to look at it from various perspectives, including those of medical, judicial, law enforcement and social work professions," said ONU Professor of Sociology Keith Durkin, who is moderating the discussion. "This is a problem that needs to be confronted, and it is time to have a frank discussion, which this panel discussion is designed to provide."
The heroin problem is increasingly impacting area communities.
"This is predominantly a rural problem," Durkin said. "Heroin is cheap and accessible, and that is a dangerous combination."
As Durkin pointed out, there were 50,000 deaths from drug overdoses in the United States in 2016, which is more than motor-vehicle fatalities. Ohio was third in the nation in 2015 in overdose death rate, with 30 of 100,000 people losing their lives to drug overdoses.
"We need to get everybody at the table to talk about how to respond to this epidemic," Durkin said.
The panel discussion was coordinated by Durkin and ONU faculty members Joseph DeLeeuw, assistant professor of criminal justice, and Tristin Kilgallon, assistant professor of criminal justice.
Durkin has served as a consultant for various drug court projects. He has also published a number of papers on substance abuse that have appeared in various of outlets, including Journal of Offender Rehabilitation, Applied Psychology in Criminal Justice, Journal of Alcohol and Drug Education, and Readings in Deviant Behavior.
The panelists bring a wealth of experience to the discussion.
Christopher, who earned his bachelor's and law degrees from Ohio Northern, oversees juvenile drug court, juvenile mental health and family dependence court dockets. Fox is on the front line of this problem in his work as an emergency room physician. Everhart has served the county as sheriff since 2009. Melton is a licensed social worker with more than 10 years of experience with drug courts and was involved in the planning of the Hardin County Juvenile Drug Court.