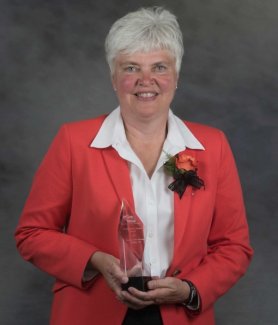 Pam Hershberger, retired partner with Ernst & Young LLP, will deliver the Carroll V. Lovett Distinguished Lecture at 7 p.m. on Nov. 6 in the forum of Ohio Northern University's James F. Dicke Hall. The title of her talk is "Shattering the Glass Ceiling."
The talk is free and open to the public.
Hershberger, who earned a bachelor's degree in business administration from Ohio Northern in 1987, pursued a progressive 31-year career with Ernst & Young LLP before retiring in 2018. During her 18 years as a partner with Ernst & Young, she served many companies in a variety of industries, including Welltower, Owens-Illinois, Pulte Homes, HCR Manor Care, Cooper Tire & Rubber Company and Champion Enterprises. She is a recipient of a 2017 Distinguished Alumni Award from ONU.
She also serves on various boards, including her role as vice chair on Ohio Northern University's Board of Trustees, as well as boards for the Toledo Symphony Orchestra, Toledo Zoo and the Toledo Community Foundation.
The Carroll V. Lovett Distinguished Lecture Series was established by a bequest of Florence V. Lovett in honor of her son, Carroll Lovett, a 1961 graduate of Ohio Northern's business program and a retired executive with Xerox Corporation.
After completing an associate degree at another university, Lovett earned his bachelor's degree at Ohio Northern. He was drawn to ONU largely because of the University's smaller, personable setting, and Lovett formed several lasting friendships during his college days.
After graduating, Lovett embarked on a career in fire-loss prevention, working for The Travelers Insurance Company and Aetna Life and Casualty. He then spent 25 years working for Xerox Corporation in Stamford, Conn., where Lovett was responsible for fire-safety engineering for all Xerox facilities.
Lovett was also active on the boards and technical committees of the National Fire Protection Association. He retired from Xerox in 1994.