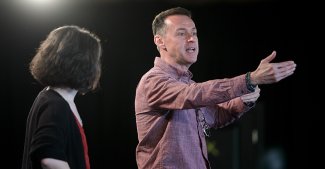 STUDENTS TAKE OVER AT BROADWAY COMPOSER ANDREW LIPPA'S ONU MASTER CLASS
Acclaimed composer, lyricist and musician Andrew Lippa concluded his master class at Ohio Northern University during fall semester 2018 with a performance of a very special song. "Marshall Levin" is a coming-of-age song with a twist. Its lyrical payoff is unexpected and perfect given the context Lippa provided the ONU musical theatre students in attendance as to its origin.
He shared with the students that the song was a birthday present of sorts to legendary composer and lyricist Stephen Sondheim. Lippa was one of a select group of contemporary composers invited to write and perform a song at Sondheim's 80th birthday celebration in New York City. Based on a true event in Lippa's life from his sophomore year in high school, "Marshall Levin" recounts an afternoon he spent listening to records with a popular senior he had a crush on. However, the record is the soundtrack to Sondheim's Sweeney Todd, and by the end he's not fallen for Marshall, but Stephen Sondheim through his music. 
In essence, that's what a master class does. It gives students access to professionals to gain insights into things they wouldn't otherwise learn. 
"We have an amazing guest artist program," says Elena Matchen, a junior musical theatre major. "Just to have a voice that is such a behemoth in the musical theatre world and to get to have this experience working with him was really incredible."
Lippa is the man behind The Wild Party, the ONU Department of Theatre Arts' most recent production. Lippa won the Outer Critics Circle Award for best off-Broadway musical and the 2000 Drama Desk Award for best music for The Wild Party. Due to the show's mature subject matter, it isn't performed at colleges as often as some of his other works, such as The Addams Family, but Lippa is always appreciative when a school takes it on.
"The music is incredibly difficult, and it's a completely sung-through piece, so it is a challenge to do that day after day and go to classes," he says. "It's a big bear of a show."
Lippa had not seen the ONU production before his master class, but he was excited to see it later that day. His only expectation was a hope that they approached it honestly and didn't resist the temptation contained in the piece itself. "It's a really visceral piece, and I hope they perform it that way."
It's not surprising given that the theme of his class was to help the students be performers, to completely take over the room and to know that is what the audience wants them to do. According to Lippa, that's just part of being a young performer. He's worked with enough students to understand that becoming a good performer has a lot to do with becoming yourself and having the confidence to give yourself permission to take up space in a room.
"Mr. Lippa gave us a lot from the viewpoint of a composer, a lyricist and a musician that we can take certain liberties as actors, and we should take certain liberties as actors. It's a very selfish art, and you need to be able to use that and capitalize on that," says Alec Beiswenger, a junior musical theatre major.
Lippa estimates that he's worked with students at more than 50 colleges and universities, including Harvard, Yale, the University of Michigan, Northwestern University, the Royal Conservatory of Scotland and the Danish Musical Theatre Academy in Denmark, to name but a few. With that much experience, it was interesting to hear what he thought of ONU's musical theatre students.
"They are very, very, very good, and they are very well prepared," he says. "I was very impressed with this group of students and their capacity to not only absorb complicated songs, but also their openness and their ability to take direction. That's a really telling sign. They weren't intimidated by that, which is the hallmark of a really good program."
One of the students who sang for Lippa, Taran Beasley, a junior musical theatre major, appreciated the lesson. "He reminded me that I'm not the creator, but the interpreter. It took a lot of pressure off of me as a singer to get everything right, or get every little detail perfect. Plus, he was so fun to work with. It was just a really awesome opportunity to be a part of," she says.