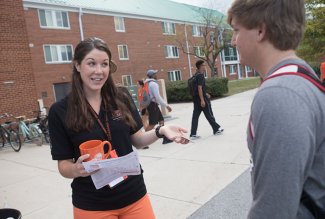 Community service has become a way of life for Monica Coupe, an Ohio Northern University student from Fort Wayne, Ind. Coupe, a pharmacy major, is involved with an independent project in ONU's College of Pharmacy that combines her interests in community service and her academic pursuits.
Coupe, who graduated from Carroll High School, is part of a team of students who are working with the Ohio State University Extension Office in Hardin County.
"From this experience, I am able to use my skills as a student pharmacist to help others and advocate for the profession," Coupe said. "I have always enjoyed building relationships and connecting with others, so this is a natural outgrowth for me."
Michelle Musser, director of community outreach in the ONU College of Pharmacy, coordinates the community-service efforts of Coupe and other students.
"The independent study program focuses on outreach," Musser said. "It is a winning situation for both the students and the area organizations. Students learn to work with people, plan and organize events. These are skills that are best developed outside of the classrooms and labs and in practical settings. Pharmacy is a broad field, and these opportunities often open up horizons for students and introduce them to various career paths.
"The organizations, on the other hand, gain resources and are able to offer new programs that extend their reach and benefit the community," Musser said.
Coupe and fellow ONU pharmacy student Marisa Rinehart are designing and delivering three educational presentations and screenings to Hardin County employees during the fall semester. The OSU Extension Office offers county employees wellness services, and these "lunch and learn" presentations are part of the program. The extension office coordinates and advertises the programs and offers a healthy meal for the employees; ONU students provide the education.
The opportunity to help others is largely what drew Coupe to the field of pharmacy.
"I want to make a difference and use my skills to help others," Coupe said. "It is important to be part of something bigger than myself and to contribute to the community where I live."
Coupe has been actively involved in student life at ONU. Now a fourth-year student in the six-year pharmacy program, she has been involved with residence life since her second year and is now director of Founders residence hall. "I have grown greatly from this experience and have been able to learn to lead others and solve problems. These are lessons I can put into action during my professional career," she said.
Coupe plans to pursue a career in clinical care pharmacy and is gaining practical insights into her future career field in her hometown. She is serving an internship at a Kroger Pharmacy in Fort Wayne. Additionally, Coupe was a student intern at Parkview Hospital during summer 2017.
"From this experience, I have been exposed to the community and institutional pharmacy sides of the profession, which has allowed me to gain a better sense of where the ever-expanding profession of pharmacy may take me," Coupe said.
In all, she is having a fulfilling college career.
"I love it at ONU. There is a great sense of community," Coupe said. "I have made lifelong friends, and I am confident I am prepared for the future."
Community service is an important component of the ONU College of Pharmacy experience. During the 2016-17 academic year, the college's 14 student organizations implemented 198 events, with 71 percent of those in the Hardin County community. These included 648 hours of service and reached 8,542 patients. Pharmacy students performed 2,090 health screenings, which resulted in 302 referrals for further treatment.