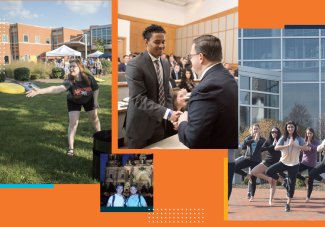 You'll put a lot into your college decision.
It's about the complete experience
You should consider what a university can do for you – and what separates the right college from the rest. At Ohio Northern's Dicke College of Business Administration, that distinction is high-impact learning – a unique Northern offering that gives you so many ways to learn.
Learn through research

As an ONU undergraduate, you could land a paid research-assistant position, co-author a paper for an academic journal, and present research findings at a regional or national conference.
Learn through real-world projects

Whether you're managing real assets of more than $330,000 or explaining your big idea in our annual elevator-pitch competition, plan to leap right into your subject matter and learn by doing. 
Learn through work

Don't expect a typical internship at ONU. Here, we specialize in awesome, spot-on internships. With our academic reputation and vast network of loyal alumni, this work experience could set your course for life.
ONU business students land coveted spots at companies like Cardinal Health, Cooper Tire & Rubber, Deloitte, Ernst & Young, KPMG, Marathon Petroleum Corporation, the Ohio Auditor of State, and PricewaterhouseCoopers.
Learn through play

Put what you've learned to the test during some friendly competition. You'll match wits against students from universities across the country – and win! ONU's American Marketing Association (AMA) chapter has a history of garnering top honors at national competitions like the AMA Business Simulation Competition. There's also Society for the Advancement of Management Student Case Competition, in which our chapter won third place in 2013, and the Institute of Management Accountants Video Case Competition, in which our students recently garnered a gold-level award for their entry.
Learn through KEEN

We emphasize entrepreneurship in the Dicke College of Business Administration. In collaboration with ONU's T.J. Smull College of Engineering, our college is part of the Kern Entrepreneurship Education Network (KEEN) – whose mission is to graduate students equipped with an action-oriented entrepreneurial mindset to transform the U.S. workforce.
Learn through diverse experiences

ONU may be nestled in the rural countryside, but you'll still be able to travel to cities both big and small to study, work, teach, volunteer, compete and attend conferences. A great example of this is the Executive Classroom, a special course that focuses on leadership and ethics. The course's cornerstone is a trip to a major metropolitan area for intense days of meetings, networking and cultural activities. Past classes have traveled to Chicago and visited the Chicago Bears, JP Morgan Chase, AT&T, Deloitte, On Target Performance Group, Harbor Capital Advisors and Cook County Hospital.
Learn through involvement

With more than honorary societies, student clubs, competition teams and professional organizations, ONU students don't have a lot of downtime in their schedules. And that's fine with them. How will you get involved?
Will it be the Student Investment Club? This club provides a unique opportunity for ONU students to learn firsthand what it takes to be a professional investment manager. Members research and follow stocks and work together to make investment decisions. When members realize an outstanding return on investment, they get to award scholarships to deserving ONU business students.
How about the Society for the Advancement of Management (SAM), a student organization geared toward students who want to develop management skills and expertise. The group sponsors several social and community service events each year. In recent years, ONU teams have garnered top placements – beating out teams from business schools across the country – at the Student Case Competition held during the SAM International Business Conference. In addition, they host an ethics case competition for freshmen business students.
Then there's Beta Alphi Psi (BAP), an international accounting honorary organization for upperclassmen students with a GPA of 3.0 or higher. BAP hosts guest speakers, tutors underclassmen, and participates in community outreach such as the IRS's Volunteer Income Tax Assistance (VITA) program for elderly and needs-based individuals. BAP also hosts "Meet the Accountants Night" to give you networking opportunities with the Big Four accounting firms, Fortune 100 companies, nonprofit entities, and regional/local companies and accounting firms.
Your involvement doesn't have to be limited to business clubs. Many business students participate in a range of campus social organizations focusing on athletics, student government, religious life, and music and drama activities. With more than 200 clubs and organizations, there's something for nearly every interest at ONU.