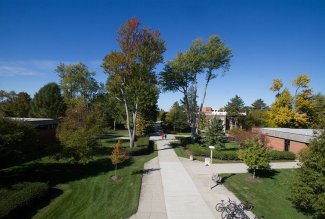 A workshop to help area professionals sharpen their social media skills will be held from 9:30 a.m. to 4 p.m. on April 8 in the Hakes-Pierstorf Family Pharmacy Education Center Building, rooms 157 and 158, at Ohio Northern University.
The cost of the daylong workshop, including lunch, is $150 for professionals ($130 for early registration by April 1) and $35 for current students. The workshop is hosted by the Ohio Northern University chapter of the Public Relations Student Society of America (PRSSA).
More information, including registration details, can be obtained by visiting www.onu.edu/arts_sciences/communication_and_media_studies/social_media_workshop or contacting Alisa Agozzino, associate professor of public relations, at a-agozzino@onu.edu.
Daniel Lemin, head of consulting for Convince and Convert, a global digital marketing strategy firm, will deliver the keynote address, "Fire up your fans." Lemin, a 1999 Ohio Northern graduate, has worked for and helped build some of the largest brands in the world, including Google, where he served on the international public relations team. In 2015, he wrote a best-selling book about online reputation, ratings and reviews; he is working on his second book, which is due to be published in late 2017. Lemin holds a master's degree in communication and leadership from Gonzaga University.
The keynote address will be followed by five sessions that will emphasize professional development and networking, with interactive conversations led by public relations professionals.
Facilitating the sessions will be Lara Kretler, vice president at FrazierHeiby; Kelsi Rupersburg, account executive at Geben Communication; Nicole Spears, social media specialist at Mindstream Interactive; Brittany Miller, marketing and communications manager at Ronald McDonald House Charities of Dayton; Courtney O'Banion, communications coordinator at Mercy Health – St. Rita's Health Partners; and Megan James, communications manager, global branding and communications at Cooper Tire & Rubber Company.
Session 1, Digital Communication: How PR, social media and content intersect in today's marketing. The lines have blurred between the historically distinct functions of online marketing, communications, public relations and content development. Digital communications can include all of the above as well as SEO, inbound marketing and more. Kretler will provide a primer on digital communications that will help students and professionals alike feel more comfortable with these terms and how to use them to harness the power of content, community and engagement.
Session 2, Managing multiple social media communities. This session will feature best practices for managing multiple social communities, including cross-platform and cross-industries. While each company or client will have unique needs, some basics of community management can span your full practice, such as escalation plans and style guidelines, eliminating overlap and wasted resources. This session will also explore integrating PR best practices into community management, such as organically interacting with key influencers through social listening and when to promote an earned media placement through targeted social advertising.                                                           
Session 3, What I didn't learn in social media class. A class in social media is a great foundation, but some things you only learn through firsthand experience and time. In this session, individuals will learn the most up-to-date social media best practices, advice on reaching out to potential followers, and subtle tips and tricks for your favorite medium. In addition, it will review some handy tools that can make a social media manager's life a little easier.
Session 4, From retail to nonprofit – relationships are everything. Whether you're working in retail, nonprofit or corporate setting, you have a community of devoted fans waiting for you on social media. Defining your audience, creating captivating content and developing strong relationships are keys to securing loyal customers/fans. In this session, learn why responsiveness, communication and listening are so important in social media.
Session 5, Tread Wisely, using social media and PR tactics to launch a national teen awareness campaign. From app development and social strategy to media relations, learn how Cooper Tire & Rubber Company created the "tread wisely" brand and is working to share it across the nation and eventually the globe.