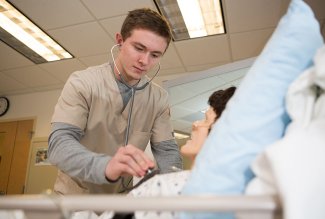 Ohio Northern University's nursing program is making the grade in its ability to successfully prepare students for rewarding careers. RegisteredNursing.org recently ranked ONU's nursing program as second among 84 programs in the state.
The ranking analyzes several factors and is based largely on first-time passage rates on the NCLEX-RN exam. College graduates need to pass the NCLEX exam to become practicing registered nurses (RN). At the time the analysis was conducted, 2014 was the most recent year in which passage rates were published by the state, according to the survey.
"After our analysis, it became apparent that Ohio Northern not only supports its students during their time on campus but also prepares them for careers beyond ONU," said Brooke Wallace, managing editor of the website. "The strong RN program prepares students to conquer the NCLEX and produces graduates who have the ability to confidently carry out what they learned into the health care world."
ONU's graduating students have achieved 100 percent passage rate on the exam the last two years.
"This high passage rate is affirmation of the quality of our nursing program," said Kami Fox, ONU's director of nursing and chair of the Department of Nursing. "It is particularly noteworthy in that it speaks to the relevancy of our program and our ability to prepare students for their future careers. I would match our students against anyone's."
The key to ONU's nursing program is superb, student-focused teaching that emphasizes application of theory.
"We have strong faculty members, and many are clinically based and have professional experience in the field," Fox said. "They are then able to share stories of real-life scenarios with our students."
Student Cara Walden, who graduates this spring, said, "The ONU nursing program has high expectations for all of its students. Because of these high expectations, ONU has pushed me to learn what it takes to be a successful nurse. Furthermore, our class size is pretty small, which allows us to form strong connections with our peers as well as our professors."
The students gain practical experience in a range of settings.
"We have the opportunity to practice and learn in a variety of clinical settings," said Walden, a graduate of McAuley High School in Cincinnati. "I have learned to apply evidence-based practice in real-life situations as well as adapt to different settings."
"I have practiced every skill we have learned in clinical settings, which has increased my clinical knowledge and confidence," Walden said.
The ONU nursing program, which began in 2005, currently enrolls 121 students in the bachelor's degree curriculum.
"We look to give our students a strong foundation so they can go wherever they want after graduation," Fox said.
Nursing remains a vibrant career path with opportunities throughout the state and beyond.
"We are now tending to an aging baby-boom generation, and this is a great time to be involved in nursing," Fox said.
Former students realize the benefits of the high-impact ONU nursing educational experience.
"Once entering the profession, as opposed to feeling like a novice, I felt comfortable and confident in my ability to practice as a graduate nurse," said Adam Ahmed, a 2016 graduate who is now employed as a critical care registered nurse at Saint Rita's Hospital in Lima, Ohio. "Approaching a year in the field, I can unquestionably say thanks to ONU's nursing program. I was prepared to succeed in my current position."
Keith M. Harvey, a fellow 2016 graduate, said, "Aside from the standard nursing skills, I felt that there was a huge emphasis on critical thinking and empathy. The professors and school took extra steps to help us discern important details from all the minutiae. They helped us step into the shoes of who we were treating. It helped me understand the plight that some of these people go through outside and inside of the hospital."
Harvey is an intensive care nurse with Blanchard Valley Hospital in Findlay, Ohio.
Ahmed says that he appreciates the well-rounded experience he received at ONU.
"Some of the important traits that encompass a successful nurse include adaptability, diligence, critical thinking, teamwork and compassion," he said. "It was evident throughout my time at ONU that I would not only learn the skills and knowledge required to be a successful nurse but also learn to identify and develop these traits to fully prepare me to be a successful nurse."