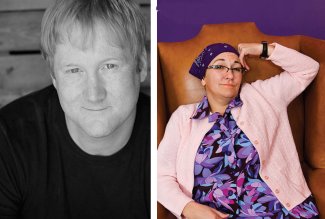 Ohio Northern University's Freed Center for the Performing Arts will present the comedy of Jon Reep and Etta May in the Freed Center on Saturday, Feb. 13, at 7:30 p.m.
As an actor, Reep has played the pot-smoking farmer Raymus in the movie "Harold and Kumar Escape from Guantanamo Bay" and the dim-witted cop Gerald Bob on the ABC sitcom "Rodney." He played a goodwill worker in Disney Channel's "Good Luck Charlie" and was the HEMI guy in Dodge Truck's popular ad campaign. As a comedian, he was the winner of season five of NBC's "Last Comic Standing." He's been on Comedy Central's "Premium Blend," the half-hour special "Comedy Central Presents: Jon Reep" and his own special "Jon Reep: Metro Jethro." He's been on TBS's "Pit Stop Comedy," NBC's "Late Friday," and CMT's "Comedy Club" and "Comedy Stage."
May is the reigning "Queen of Southern Sass." She has won the American Comedy Awards Stand-Up Comic of the Year; has appeared on MTV, Oprah, and Comic Strip Live; and was a guest commentator on CBS Sunday Morning. May will take the audience on a redneck ride through the Deep South.
Tickets are $25 for adults and $20 for seniors. Tickets are $15 for ONU faculty and staff and $10 for ONU students and children. The Freed Center box office is open Monday through Friday from noon to 5 p.m., and Saturday from 10 a.m. to 2 p.m. Phone orders are accepted with American Express, MasterCard, VISA or Discover by calling 419-772-1900. Tickets also are available online at https://www.onu.edu/freed