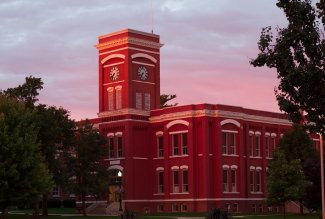 A team of Ohio Northern University students won a position paper award for a project they developed for representing the delegation of Belgium at the recent American Model United Nations Conference in Chicago. The competitive effort required the students to immerse themselves into issues affecting Belgium, develop a deeper understanding of the UN and world events, and apply what they have learned in the classroom in a practical situation.
The American Model UN conference is one of the largest national Model UN conferences in the nation.
"The students were assigned a position paper to write for each of their separate committees," said Nusta Carranza Ko, ONU assistant professor of political science and the group's advisor. "To accomplish this task, they had to research the country's position on the issue topic, which required the students to not only dig into historical resolutions from the United Nations General Assembly and Security Council but also research Belgium's governmental web site, history documents, and even recent speeches by Belgium ministers and prime ministers as well as published reports from government agencies."
ONU students involved with the project were:
ONU Model UN Club President Jeffrey Alexander, political science major, Gateway High School, Monroeville, Pa.
Adam Clemens, pharmacy, Coldwater High School, Coldwater, Mich.
Blaine Dearth, political science, Ada High School, Ada, Ohio
Richard Deubler, professional writing and political science, Shawnee High School, Lima, Ohio
Mara Guyton, political science, Ada High School, Ada, Ohio
Sarah Hasan political science, Ada High School, Ada, Ohio
Marcus Keppi-Kosmyna, political science
Mahawa Koroma, political science, International School Limited, Freetown, Sierra Leone
Cassandra Krencisz, political science and communications, Brunswick High School
Andrew Mantenieks, criminal justice, Westerville North High School, Westerville, Ohio
Elizabeth Meyer, history and philosophy, Mother of Mercy High School, Cincinnati, Ohio
Hannah Ray, political science and statistics, Shenandoah High School, Cumberland, Ohio
Anastasia Spates, political science, The Cleveland School of Science and Medicine, Cleveland, Ohio
Chloe White, public health, Ada