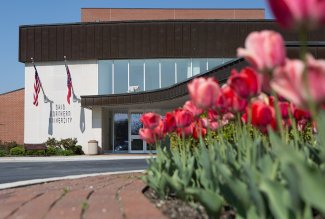 The Ohio Northern Symphony will present a concert, "Black History and Brahms," at 7 p.m. on Feb. 25 in the Freed Center for the Performing Arts at Ohio Northern University.
Tickets are $20 for general admission, $15 for ONU faculty and staff, $10 for seniors, and $5 for students. The Freed Center box office is open Monday through Friday from noon to 5 p.m., and Saturday from 10 a.m. to 2 p.m. Phone orders are accepted with American Express, MasterCard, VISA or Discover by calling 419-772-1900. Tickets also are available online at ticketing.onu.edu.
The concert will be conducted by music director Travis Jürgens. In support of Black History Month, the symphony will present William Grant Still's "Symphony No. 1 (Afro-American Symphony)," which incorporates blues and African-American styles while melding jazz and traditional orchestral techniques.
Also on the program is "The Passion of John Brown" by guest composer Jesse Ayers. Ayers was the winner of the inaugural American Prize for Orchestral Composition in 2011, and he was named an "Honored Artist" of the American Prize in 2014. Since 1997, Ayers has served on the music faculty of Malone University in Canton, Ohio. The composer will attend the concert. More info about Ayers can be found at www.jesseayers.com.
The program also features guest violinist Stanislav Pronin on Brahms' "Violin Concerto." Pronin was born in Moscow, Russia, and began his violin studies upon his immigration to Israel at the age of 8. Stanislav's professional career began following his solo debut in Israel at the age of 10. More details about Pronin can be found at www.stanislavpronin.com.