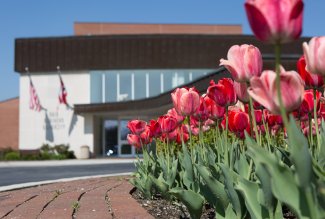 The Ohio Northern University Symphonic Band, the "Northern Winds," will present a concert at 7:30 p.m. on March 19 in the Freed Center for the Performing Arts at ONU. Ticket information may be obtained by calling the Freed Center box office at 419-772-1900 between noon and 5 p.m. Monday through Friday.
The multicultural program, titled "Around The World With The Winds," will feature music from the United States, England, Africa, Australia, China, Korea, Mexico and the Middle East.
The concert is dedicated to the memory of former "Wind" Andreya Grzegorzewski, who was lost in a tragic car accident earlier this year. Grzegorzewski was an outstanding musician, computer science student and friend to many on campus. In her honor, the Northern Winds will perform a piece that she played with the group the previous year, "Winds of Change."
ONU music faculty to present voice recital
ADA – The Ohio Northern University Music Department will present a faculty voice recital at 2 p.m. on March 18 in the Presser Hall recital hall at ONU. The event is free and open to the public.
The recital, titled "Love, Birds and a Meat Ball," will feature artists Kirsten Osbun-Manley, soprano; Lance Ashmore, baritone; and Pamela Ashmore, piano. The program will include an eclectic mix of classic and contemporary songs, and other favorites from composers as diverse as Kurt Weill, Cole Porter, Stephen Flaherty, J.S. Bach and Claude Debussy.