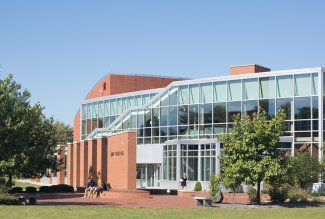 Students in Ohio Northern University's Dicke College of Business Administration distinguished themselves in recent national competitions.
These competitions extend education beyond the classroom and offer students the opportunity to apply theory to practice. They are an integral part of the ONU educational experience and complement internships and other experiential situations that bridge the students' educational careers and professional pursuits. In this way, they exemplify the high-impact learning experience that distinguishes both the University and the College of Business Administration.
A team of Ohio Northern business students won the best practices competition at the Beta Alpha Psi regional conference for the presentation "Branding your chapter." The students then went on to represent ONU at the Beta Alpha Psi annual conference in Washington, D.C.
Beta Alpha Psi is an honor organization for financial information students and professionals. At Northern, it is made up of both accounting and finance students. Matthew Phillips, associate professor and the Roger Young endowed professor in accounting, is advisor to ONU's chapter of Beta Alpha Psi.
Members of ONU's team were Ledondrick Chapman of Cleveland; Jack Ellerhorst of Cincinnati; Alexis Jordan of Alger; Alexander Klouvas of Fort Wayne, Ind.; Benjamin Neville of Ada; Zachary Padden of Cambridge; Martrina Parks of Worthington; and Victoria Volpe of Fostoria.
Further, a team of ONU students placed second in the Society for Advancement of Management's case competition held at the organization's annual conference. The advisor for the ONU group is Kristie McHugh, assistant professor of management.
Participants in this competition were Hannah Bowen of Ohio City; Ross Covault of Sidney; Garett Dietrich of Olmsted Township; Mitchell Frisby of Wadsworth; Katie Kurtz of Toledo; Kristin Langston of Versailles; David Newman of Grosse Pointe Farms, Mich.; and Lydia Shealy of Tiro.