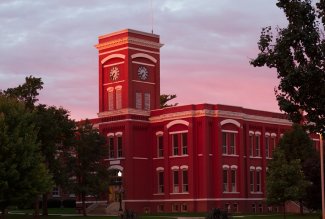 Ohio Northern University students Emma Green and Elizabeth Meyer have set out to empower young girls through a civic engagement project.
Green is a philosophy, politics and economics major from Madison Heights, Mich. She also is pursuing a minor in public policy. Meyer is majoring in history and political science, with a minor in public history/museum studies. She is from Cincinnati, Ohio.
The project was part of the History, Political Science and Geography orientation class and involved the students organizing a civic engagement project that connected with either the local community or their hometowns. The two freshmen selected Green's hometown for the venue.
"Emma and I gave presentational talks to fourth- and fifth-grade girls at three different schools in her district regarding young girls' confidence," Meyer explained. "We went to share the information and motivation of studies showing that women are fully capable of receiving the same governmental, business and institutional high-level positions that men hold."
The project was originally inspired by the problem of gender inequity in the workplace. "Women possess nearly 60 percent of all undergraduate and graduate degrees in the United States," said Green. "We realized that perhaps the reason women aren't ending up in positions of leadership within their companies or the government is because they simply aren't actively pursuing them to the extent that men are."
The lack of pursuit, Meyer says, comes from a lack of confidence. "The sad truth is that many women report that they aren't comfortable or confident enough to go out and get these high-level jobs. We wanted to use this project to reach out to young girls before the negativity of body image and sexism got to them first."
Green also stresses the importance of reaching out to a young audience. "Our project was aimed at girls who have not yet been entirely submerged in the difficulties of body-image problems and the competition of everyday life. We wanted this presentation to show the girls that successful women were all around them, and that they could do the same as long as they set goals for themselves and maintained confidence in their own capabilities."
The presentation offered exposure to many different career fields, particularly STEM (science, technology, engineering and math) careers.
As a result of the project, both Green and Meyer have been inspired to pursue big goals in their own careers.
Meyer has plans for a career in government. "I feel as though this project gave me a better sense of public speaking and catering to a certain audience about what I strongly believe in," she said. "My future goals definitely involve a governmental job, possibly in the United Nations or with the National Parks Service."
Green also believes the project gave light to her larger goals. "Public service is the easiest way to make widespread change," Green said. "I plan to run for office and use my career as a way to impact others directly, through leadership and civic service."