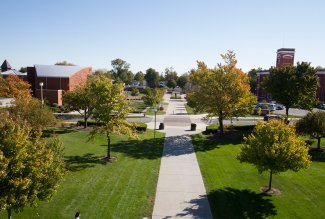 Ohio Northern University students continue to distinguish themselves through their academic and creative exploits. ONU students recently earned honors in the disciplines of accounting and finance, mathematics, and poetry. Although the achievements were in three distinct fields, they share the common theme of academic excellence and the value of high-impact, well-rounded educational experiences.
The team of Matthew Golden, Zack Goodchild and Takumi Kijima won the 2017 Ohio Mathematical Association of America Student Team Competition. Meanwhile, ONU's team placed first in the Beta Alpha Psi team competition during the business group's Midwest Regional Meeting in Indianapolis. Also, student Rachel Cruea earned an outstanding poetry award at the annual conference of Sigma Tau Delta national English honorary.
The mathematics team is advised by Mihai Caragiu, Ph.D., professor of mathematics and chair of the Department of Mathematics and Statistics at ONU. A junior physics and mathematics major, Golden has been accepted into the Research Experience for Undergraduate program. Goodchild, a junior, is majoring in statistics with an actuarial science concentration and a minor in business administration. He has earned the ONU DeBow Freed Award for Outstanding Leadership. Kijima, who is in his first year at ONU, is majoring in mathematics with an advanced mathematical studies concentration and a minor in applied statistics. He plans to pursue a Ph.D. in machine learning.
The Beta Alpha Psi team presented on "Leadership Development," charting the chapter's journey over the past two years using the book "Good to Great." They competed in the area of best practices that were created and completed by the chapter toward specific goals. Team members include Tony Jones, a senior accounting major from Forest, Ohio; Ja'Nessa Burnette, a senior accounting major from Akron, Ohio; and Patrick Jeffries, a Master of Science in accounting candidate from Cleveland. The team is advised by Assistant Professor of Accounting Matthew Phillips. Beta Alpha Psi is an accounting and finance international honorary organization.
Cruea received one of six awards for outstanding poetry from among 122 student presentations. Her submission included selections from her capstone collection, "The Flower Doesn't Dream of the Bee," which is a collection of 15 poems that follow the progression of "you and I" through attention to imagery, sound play and persona, she explained. Cruea, a Findlay High School graduate, is majoring in creative writing with a minor in literature and graduates from ONU this spring.
"Rachel's work was judged to be in the top 5 percent of those who presented from universities around the world," said Douglas Dowland, assistant professor of English and Sigma Tau Delta advisor. "This is an incredibly remarkable accomplishment not only for Rachel, but also for the Department of English and for Ohio Northern, as well."
Cruea has earned a teaching assistantship and will pursue a Master of Fine Arts in creative writing at the University of Colorado, Boulder, beginning this fall.