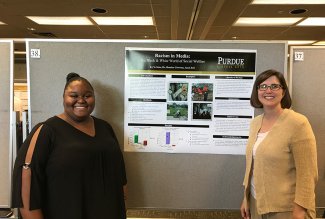 While many college students favor a swimming pool's diving board as part of their summer routine, Ohio Northern University student Ky'la Sims prefers to use this time as a springboard.
Sims, a rising senior at ONU, is investing in her future this summer by participating in the selective Summer Research Opportunities Program (SROP) at Purdue University in Lafayette, Ind.
The program is designed to encourage talented undergraduate students from underrepresented backgrounds to pursue projects that will prepare them for research careers. Participants are selected on the basis of their interest in pursuing a doctoral degree, college coursework and grades, letters of recommendation, and ability to contribute to the program's goals.
Sims, who is majoring in political science with a minor in international studies, is involved in several projects that bridge her undergraduate preparation with her post-graduate academic and career aspirations. She has ambitious aspirations, and this summer is a step toward pursuing those goals.
"I plan on attending graduate school to earn both my master's degree and Ph.D.," she said. "Afterwards, I plan on attending law school to earn my JD. My overall goal is to become a civil rights attorney while having an active career in academia."
This summer's intensive research has helped with her career path.
"As a Purdue SROP participant, I have learned a lot about time management," she said. "Also, I feel that being here has made me a better person because of how refined my other skills have become. I am able to read and write now with the same eyes as a graduate student, which is much different for those of us in undergraduate school."
She has been involved with projects that are expanding her skills.
"This summer, I have completed two presentations," Sims explained. "The first was a presentation for our weekly Journal Club, which involved me reporting updated research related to my field of interest. Journal Club was a great way to get experience with speaking across disciplines. Currently, I am working on a much larger research project with Dr. Rosalee Clawson, the head of the political science department at Purdue's graduate school. Our research is centered on examining whether American news media stereotypically and disproportionately portrays minorities within articles centered on poverty, Social Security and Medicare."
Prior to attending ONU, Sims graduated with honors from Edsel Ford High School as a Collegiate Academy student in Dearborn, Mich.
ONU faculty members Robert Alexander and Nusta Carranza Ko recognized Sim's potential and encouraged her to pursue this opportunity.
"Ky'la is a student who is dedicated, goes the extra mile, and is one of the few students to have already identified her research interests this early on in her education," said Ko, Ohio Northern assistant professor of political science. "She has been interested in studying identity politics, and together we were able to match her with a good SROP program at Purdue."
"Dr. Ko and Dr. Alexander are truly angels in disguise, and I want to thank them both for their support and for being such incredible professors. They, along with my mom, Latrice, inspire me every day to be the best version of myself," Sims said.