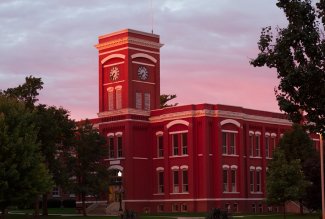 In recognition of his community engagement, Ohio Northern University student Zachary Bragg of Vandalia, Ohio, has been selected as a Newman Civic Fellow. Bragg is among 273 students nationwide to earn the prestigious one-year fellowship, which is sponsored by Campus Compact, a group working to advance the public purposes of higher education.
Bragg, a sophomore from Butler High School, is majoring in environmental and field biology with a minor in psychology.
In his nomination, ONU President Daniel DiBiasio, Ph.D., noted, "Zach typifies the qualifications of the Newman Fellowship. He shows drive, initiative and a true desire to make a positive impact on the community. Zach is a bright and engaging young man, and he has shown great ambition and leadership."
Despite a demanding academic schedule, Bragg is making an impact on his college home that will have lasting effects.
"What really sets Zach apart is his desire to assist in our local community with an initiative to aid and execute a long-desired community project with the creation of a dog park. Zach's passion for this has progressed by partnering with the Ada Village Council to find a way to bring this project into action. Zach's work toward a dog park will be appreciated by all members of the community."
Bragg has pursued a well-rounded college career, and he has been engaged in the University and local communities. He is president of Phi Mu Delta fraternity and holds an executive position with the University chapter of Habitat for Humanity. He also is in a leadership role with the Good News Bears, a group that helps organize summer orientation sessions for incoming freshman students. Further, Bragg has earned the rank of Eagle Scout.
"I have enjoyed connecting with people beyond campus. Being involved in the community has allowed me to gain more real-world experience and prepare me for life beyond graduation," Bragg said. "Plus, this is something I enjoy on a personal level. I consider myself fortunate, and it is fulfilling to do things that bring happiness to others. One of the reasons I became involved with the dog park was I saw how it could benefit people in town and make a positive impact."
Bragg's college career is continuing a family tradition. His parents, Kirk and Laura Bragg, also are ONU graduates.
"It is cool to be part of some of the same things my parents were involved with during their college days. It helps connect me with them," he said.
Additionally, Bragg was recently selected for the highly competitive Hanyang Fellowship, and he will spend a month in Seoul, South Korea, learning about that country's culture.
Campus Compact member presidents and chancellors are annually invited to nominate one community-committed student from their institution for the fellowship. These nominees are individuals who have demonstrated an investment in finding solutions for challenges facing communities throughout the country and abroad.
The 2017 Newman Civic Fellows will be the first cohort to benefit from a redesigned fellowship experience emphasizing personal, professional and civic growth. Through the fellowship, Campus Compact provides a variety of learning and networking opportunities, including a national conference of Newman Civic Fellows in partnership with the Edward M. Kennedy Institute for the United States Senate. The fellowship also provides fellows with pathways to exclusive scholarship and post-graduate opportunities.
The Newman Civic Fellowship is supported by the KPMG Foundation and Newman's Own Foundation.
Bragg is the third ONU student to win this prestigious honor. Derek Price was a 2016 recipient, and Amanda Liebrecht was a 2015 winner.