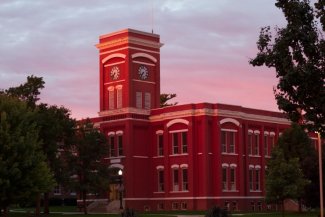 Ohio Northern University student Madison Carpenter of Kinsman, Ohio, has been selected as a Newman Civic Fellow for her commitment to community engagement. She is among students nationwide to earn the one-year fellowship, which is sponsored by Campus Contact, a group working to advance the public purposes of higher education.
Carpenter, who graduated from Perry High School in Massillon, Ohio, is a junior at ONU. She is majoring in political science and philosophy with minors in public policy, international relations, and gender and sexuality studies.
Carpenter has made an impact on the ONU community throughout her college career. She is co-chair of the university's chapter of Amnesty International, a member of the residence life staff, vice chair of the Student Advisory Board, involved with Ethics Club and a member of Student Senate, representing the College of Arts & Sciences. Further, Carpenter is a member of Omicron Delta Kappa, Pi Sigma Alpha and Phi Beta Delta honorary organizations.
After earning her bachelor's degree, Carpenter plans to attend law school and eventually work for an international human rights organization, as well as possibly pursue a political career.
In his nominating letter, ONU President Daniel DiBiasio stated, "Madison shows drive, initiative and a true desire to make a positive impact on the community … The motivation and leadership she displays in this important area of volunteerism and leadership indicate she will be a  leader in her community for years to come."
The Newman Civic Fellow class for 2020 includes 290 students from 39 states, Washington, D.C., Greece, Lebanon and Mexico.
The 2020 Newman Civic Fellows will have access to a variety of virtual and in-person learning opportunities during the 2020-21 academic year, including a national conference for Newman Civic Fellows. Fellows will also have access to exclusive scholarship and post-graduate opportunities.
The Newman Civic Fellowship was created in honor of Frank Newman, one of Campus Compact's founders and a tireless advocate for the role of higher education in preparing students for active and engaged citizenship. The Newman Civic Fellowship is generously supported by the KPMG Foundation. 
Carpenter is the sixth ONU student to win this prestigious honor.