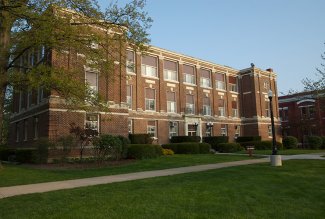 Ohio Northern University's Alumni Association presented Distinguished Alumni Awards during a recent event on campus. The awards recognize alumni who have demonstrated loyalty to their alma mater, community and profession.
Rick Keyes, Randall Myers and Sheri Stoltenberg were recognized.
Further, inaugural Alumni Service Awards were presented to Rodney Thompson and Mary Jo Bremyer-Krebs. The service awards recognize alumni who serve the University in a volunteer capacity and whose dedication epitomize the spirit of ONU.
"Both of these awards honor individuals who personify professional excellence, service to others and alumni loyalty. They fulfill the University's goal of developing graduates who make significant contributions to their professions and in their communities," said ONU President Dan DiBiasio.
DISTINGUISHED ALUMNI AWARD RECIPIENTS
Richard "Rick" Keyes of Grand Rapids, Mich., earned a bachelor's degree in pharmacy in 1992. He is currently president and CEO of Meijer Inc., a retailer that employs more than 70,000 individuals and operates 235 supercenters in six states. A 28-year member of Meijer, Keyes was appointed president in 2015 and was named the first non-Meijer family member CEO in January 2017 after holding various leadership positions in pharmacy and store operations as well as supply chain and manufacturing.
Prior to his appointment as president and CEO, Keyes was executive vice president of supply chain and manufacturing. Previously, he spent 15 years in retail operations, advancing to the position of regional vice president.
He serves on the Ohio State University College of Pharmacy Dean's Corporate Council, the National Association of Chain Drug Stores Board of Directors and the Retail Industry Leaders Association Board of Directors. Keyes has remained connected to Ohio Northern, serving as a member of the ONU Pharmacy Advisory Board and the University's Board of Trustees.
Randall Myers of Carey, Ohio, earned a bachelor's degree in pharmacy from ONU in 1981. He is currently president, owner and director of pharmacy services of Harry's Pharmacy Inc. in Carey. He has worked with Harry's Pharmacy since graduating from college and then purchasing the business from his father in 1990.
Heavily engaged with his profession, Myers has served on the board of directors of the Pharmacists Mutual Companies, Blanchard Valley Health Systems and Community Pharmacy Foundation. He has been on Ohio Pharmacists Foundation board and the Amerisource Bergen Good Neighbor Pharmacy Advisory Board.
Among his numerous professional accolades are the 2014 Beal Award for outstanding contributions to the practice of pharmacy from the Ohio Pharmacists Association and the National Preceptor of the Year Award from the National Community Pharmacists Association.
Myers has presented continuing education programs and has delivered presentations at several professional organizations and conferences.
He has remained connected to Ohio Northern, helping prepare future pharmacists as an externship and PharmD preceptor and assistant clinical professor of pharmacy.
Sheri L. Stoltenberg of Celebration, Fla., earned a bachelor's degree in psychology and college student personnel from ONU in 1980. She is founder and CEO of Stoltenberg Consulting Inc. in Pittsburgh, Pa. She has spent more than 30 years in the health care industry in both clinical support and information technology management.
Stoltenberg was previously director of ancillary systems at Shadyside Hospital in Pittsburgh, where she oversaw the departments of lab, radiology, pharmacy and cardiology and the business office. Prior to that position, Stoltenberg was project manager/advisory installation director for Shared Medical Systems of Pittsburgh.
She and her companies have earned numerous professional awards. Among them are MVP of the Year Award with Shared Medical System, Pittsburgh Business Times Best Places to work, Pittsburgh Business Times Diamond award for Executive Leadership, and the Pennsylvania Best 50 Women in Business Award.
Stoltenberg has continued to serve ONU. She is a member of the ONU Dicke College of Business Administration Advisory Board and a life member of the Henry Solomon Lehr Society, and she has delivered the Lovett Distinguished Lecture for the business college.
ALUMNI SERVICE AWARD RECIPIENTS
Rodney Lee Thompson of Orrville, Ohio, earned a bachelor's degree in chemistry from Ohio Northern in 1969. After earning a master's degree from Northern Arizona University, Thompson embarked on a career as an educator and coach. He taught chemistry, physics and math while coaching baseball, basketball and football at Chippewa High School in Doylestown, Ohio; Needles (Calif.) High School; and Mentor (Ohio) High School, where he was also planetarium director. Thompson was an adjunct faculty member at Akron University's Wayne College branch, teaching astronomy for 10 years.
An innovative and engaged educator, Thompson earned the Outstanding Teacher Award for Mentor Public Schools and was nominated for the outstanding teacher award in Ohio. Also, he co-authored a workbook on using moon rocks in the classroom.
He received an ONU Distinguished Alumni Award in 2007. Further, Thompson has assisted ONU with staffing college fairs, and he has served as chair of the Arts & Sciences Advisory Board, two-time president of the ONU Alumni Board, and an ad hoc member of the ONU Board of Trustees.
Mary Jo Bremyer-Krebs of Venice, Fla. earned a bachelor's degree in pharmacy from ONU in 1945.
She annually hosts the longest-running regional alumni event in Ohio Northern's history at the Venice Yacht club. This hallmark event has become a "home base" of sorts for five ONU presidents. Bremyer-Krebs hosted the event with her husband of 67 years, Ed Krebs, before he passed away in 2014.
Krebs had a stellar career of service to his country in the Navy, which caused the couple to move nearly every two years. Wherever they resided, Bremyer-Krebs became engaged in the community. Further, she was involved in several professional and civic organizations. For example, she was an active member of the Navy Relief Society, American Society of Hospital Pharmacists, American Pharmaceutical Association and the A.A.U.W. Taxpayers League.
During her college career, Bremyer-Krebs was a true pioneer at ONU as the only female pharmacist in her class. Since graduation, she has remained loyal to her alma mater, serving as a mentor to the leadership in the ONU College of Pharmacy, a member of the Heritage Club and an annual member of the Lehr Society.