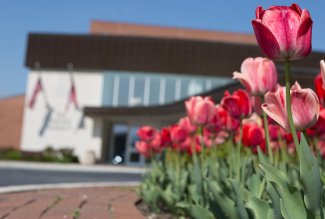 The Ohio Northern University Department of Theatre Arts will present the musical "Spring Awakening" from Oct. 19-26 at the Freed Center for the Performing Arts. Performances will be held at 7:30 p.m. on Oct. 18, Oct. 19 and Oct. 25, with 2 p.m. matinee performances on Oct. 20 and Oct. 26.
Winner of eight Tony Awards including Best Musical, Spring Awakening is an electrifying rock adaptation of the classic play. Daring and inventive, it is an exhilarating journey of teenage self-discovery and a celebration of youth and rebellion. Spring Awakening is based on the 1891 play by Frank Wedekind with book and lyrics by Steven Sater and music by Duncan Sheik.
Tickets are $20 for adults, $10 for seniors and $5 for students. To order, visit freedcenter.com or call the box office at 419-772-1900.
Emily Estep, a junior musical theatre major from Fresno, Calif., leads the cast of 16 ONU students as Wendla, with Rachel Rice as Anna, Maggie Rucki as Martha, Bridget Mahoney as Thea, Gabrielle Mouch as Ilse, Brendan Long as Melchior and Ryan Book as Moritz.
Guest director Emily Young says, "The production has made relevant and tender the issues that teenagers go through across time and across geographical boundaries." In addition to Young, guest artist Samantha Kaufman has provided direction for intimacy and fight scenes. Guest artists include Shane Cinal, scenic design; Brian Retterer, BFA '08, sound design; and Hallie Heffernan, BFA '19, choreography.
Spring Awakening contains mature language and strong sexual themes and may not be appropriate for all ages.