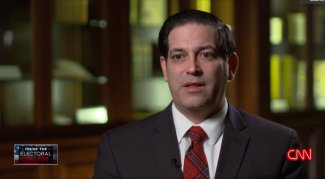 Link to full documentary included below
Ohio Northern University professor Dr. Robert Alexander, BA '94, appeared in the recently aired CNN special report "Count on Controversy: Inside the Electoral College," which originally aired on Aug. 15. The documentary featured Alexander, professor of political science and director of the ONU Institute for Civics and Public Policy, as an electoral college expert and gave a nod to his extensive research on the topic, which spans over two decades.
Click here to watch the full documentary (go to 23:42 for a quick peek inside one of Alexander's classes).