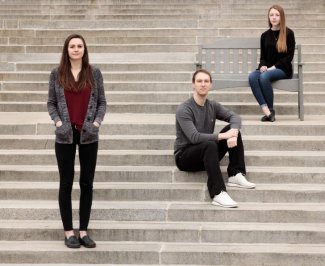 Three Ohio Northern University Raabe College of Pharmacy students are assisting the Kenton Hardin Health Department (KHHD) during the current coronavirus crisis.
Eric Dierkes, Michaela Mrozek and Makayla Wells, who are all sixth-year pharmacy students, are helping the county health department with a special project. The KHHD currently has a large number of persons under investigation for COVID-19. The students, who began this project April 7, are reaching out to persons in the area who are under investigation for COVID-19. They are calling on individuals to check on symptoms, record the data and make appropriate referrals based on that symptomatology.
"This is a great opportunity for the students to provide a meaningful public health service to the residents of Hardin County while also gaining invaluable practical experience. I am very proud of them," said ONU HealthWise Director Michael Rush.
This effort provides much-needed resources to the KHHD during this health crisis.
"Kenton Hardin Health Department is a small health department and has limited capacity in regards to staffing to meet the ever-increasing demands of public health during this crisis," said Cindy Keller, director of nursing at KHHD. "In an effort to expand the ability to manage the additional work of this crisis, we reached out to Mike Rush, and he was able to make the arrangements."
KHHD and the ONU College of Pharmacy have a long-standing collaborative relationship. In the past, the health department and college have worked together on other efforts, such as flu immunization clinics. In addition, ONU pharmacy students have been involved in outreach efforts in the county through the Health Lifestyles Coalition.
"It seemed to be a natural fit that, in this unique time of the COVID-19 pandemic, we would once again ask for a collaborative effort with Ohio Northern," Keller said.
This collaboration puts into practice the mission of the ONU College of Pharmacy.
"We strive to offer our students practical experience that builds upon what they learn in the labs and classrooms in preparing them for success in their careers. Community service and using our resources to improve the quality of life for residents of Hardin County and the surrounding region is also a distinguishing feature of the educational experience for the College of Pharmacy as well as programs throughout the university," said Steven Martin, dean of the ONU College of Pharmacy.
The participating ONU pharmacy students are gaining much from this experience that will prepare them for success in their careers.
"By contacting residents of Hardin County during the COVID-19 pandemic, I am gaining practical experience by having those essential conversations that occur in community pharmacies and improving continuity of care by following up with patients," said Wells, a native of Portville, N.Y. "While counseling patients about medical conditions and treatment strategies is important, it is vital that pharmacists know when to refer patients to seek medical attention and coordinate care by connecting patients to the appropriate resources, like their county health department."
For Wells, community service has long been an important part of her life.
"I believe that you are a partial product of your surroundings. My small hometown shaped me for the first 18 years of my life. From an early age, I learned two important lessons regarding service: the first being that small gestures have a big impact on your community and the second being what you put into your community affects what you'll get out of it."
For Dierkes, this opportunity is a prelude for the coming year.
"This experience really is preparing us to be ready and willing to reach out and be a resource to help our community in Hardin County. This is preparing Makayla Wells and me specifically as we transition into our positions as pharmacy residents for ONU HealthWise this upcoming year. We will be staying and really becoming a part of the Hardin County community, doing what we can do as health care professionals to make a difference," said Dierkes, who is from Woodsfield, Ohio, and graduated from River High School.
Dierkes also understands the impact of community service and how it relates to the field of pharmacy.
"Coming from a small rural county in Ohio, the value of community service is unmeasurable because its sole focus is helping your neighbor, no matter what you receive out of the work that is done. Community service is necessary in order to establish and maintain a thriving county that is much bigger than you as an individual," he said.