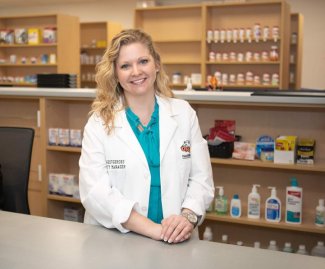 With continued support from Cardinal Health, the Ohio Northern University Raabe College of Pharmacy will offer high-impact learning pathways for students who wish to pursue independent pharmacy in the new, state-of-the-art ONU HealthWise Pharmacy. The company made a contribution to the University at the recent Cardinal Health Appreciation Day. 
In January 2018, Ohio Northern University opened the ONU HealthWise Pharmacy, an independent, full-service community pharmacy. Cardinal Health has been a key partner with Ohio Northern to support the opening of the pharmacy, which focuses on comprehensive health care for students, faculty, staff and members of the surrounding communities.
Support from Cardinal Health provides simulation and training from registered pharmacists in the ONU HealthWise Pharmacy, expanding upon the rotation and training options already available to ONU pharmacy students. Cardinal Health's gift also will further support and increase the impact of the existing Cardinal Health endowed scholarship at Ohio Northern, which provides financial support for students with an interest in pursuing community or independent pharmacy.
ONU HealthWise pharmacy manager Katie Westgerdes was the inaugural recipient of Ohio Northern's Cardinal Endowed Scholarship in 2012.
"We are grateful to Cardinal Health for this generous gift and their continued support of the ONU College of Pharmacy," said Steven J. Martin, dean of the College of Pharmacy. "The resources provided by Cardinal Health have been instrumental in offering students the type of relevant educational experience that prepares them as practice-ready pharmacists who improve health, service others, lead change and advance the profession of pharmacy."