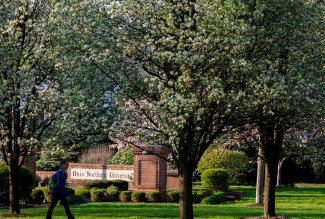 Due to SAT and ACT testing cancelations caused by the COVID-19 pandemic, Ohio Northern University will allow most prospective first-year students to apply for admission in the fall of 2021 without these test scores.
Students applying for admission to the nursing, early childhood education, and middle childhood education programs are not eligible for test-optional admissions and must present their ACT or SAT results due to accreditation standards.  Home-schooled students are also not eligible for test-optional admission.
The university will continue to maintain the same high academic standards, and the decision to submit test scores will be left to the student applicant. All applicants admitted to ONU will be considered for merit-based scholarships, regardless of whether test scores are submitted with the application.
When applying, students will be able to indicate whether they are submitting a test-optional application. Each applicant can decide to submit standardized college entrance exam scores if the applicant believes these scores might add value to their candidacy. Further, those who submit a test-optional application can still submit test scores as a supplement to the application, even at a later date, for additional financial aid consideration and for first-year course placement.
Ohio Northern takes a holistic approach to reviewing applications, meaning several factors of an application are evaluated to determine preparation for success at ONU. These factors include high school grade point average (GPA), grades in dual enrollment coursework, academic rigor, short answer response on the admissions application when provided, leadership and service experience, and standardized test scores when presented.
"With the current uncertainty in testing climate, we believe this is important in meeting our applicants' needs," said Bill Eilola, ONU vice president for enrollment management. "Even when testing resumes, we are aware that there will be limited options and concerns for many students that will still exist. By providing the availability of a test-optional process, we aim to support our students by assuring them that they'll be able to apply for admission with or without SAT or ACT scores." 
Ohio Northern University is committed to making scholarship opportunities available for all accepted students, and an applicant's initial scholarship eligibility will not be negatively impacted by a test-optional application. More information on scholarships for the fall 2021 class will be available in fall 2020.