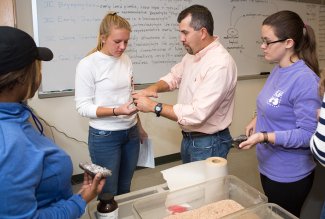 According to The College Student Report 2016, Ohio Northern University students continue to pursue high-impact learning opportunities at a higher rate than most college students. The report, produced by National Survey of Student Engagement (NSSE), details responses from more than 300,000 first-year and senior students attending 512 U.S. universities. The survey was conducted in spring 2016.
ONU continues to outpace similar universities while besting national averages by 20 points or more in several relevant areas.
For example, according to the report, 89 percent of senior Ohio Northern students are involved in internships or field experience, compared to 82 percent of students at peer institutions and 73 percent of college students nationwide.
Similarly, 98 percent of senior ONU students reported involvement in a culminating senior experience, compared with 78 percent of students at peer institutions and 70 percent of students nationwide.
"These types of experiences are hallmarks of an ONU education," said ONU President Daniel DiBiasio, Ph.D. "They often link the classroom and labs with the workplace and prepare students for careers and develop the 'soft skills' that are highly regarded by employers."
Effective teaching continues to distinguish Ohio Northern, and the NSSE results underscore that emphasis.
ONU's senior students gave high marks for effective teaching practices, as ONU has ranked highly in this area in the four-year trend section of the report. As the report indicates, ONU students find that faculty members, overall, have clearly defined expectations and utilize innovative teaching practices. Further, faculty members tend to involve ONU students in the types and levels of research that are uncommon for the undergraduate college experience.
"Having faculty members who care about the students' success and share their own research knowledge in the classrooms and labs is an important part of the culture we have on campus," said Maria Cronley, Ph.D., ONU provost and vice president for academic affairs. "It is also integral to positioning students for success in graduate school, whether they attend right after earning their bachelor's degree or further in their professional careers."
Ohio Northern students also reacted favorably over the last four years to the quality of interaction on campus with fellow students, faculty and staff members. This indicates a helpful, welcoming environment on campus.
Further, 66 percent of first-year students indicated that their classes included a service-learning component. This is in comparison with 54 percent at peer institutions and 53 percent nationwide. ONU has embraced service learning, and members of the University community are involved with more than 20 organizations in the area. During the 2014-15 academic year, the ONU community invested 60,000 volunteer hours in area projects. 
"These efforts are important in engaging with our local community and helping our students understand the true purpose of using their skills to make a difference in the lives of others," DiBiasio said. "In this way, our graduates are truly prepared to pursue lives of impact."