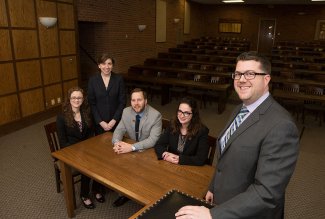 The Ohio Northern University Pettit College of Law Jessup International Law Moot Court Team advanced to the White & Case International Rounds in Washington, D.C., which will be held in April, after finishing second among 20 schools at the 57th annual Philip C. Jessup International Law Moot Court Competition Regional Rounds in Chicago earlier this month.
The ONU team was comprised of Keely R. McWhorter, a third-year law student from East Bernstadt, Ky.; Michael Gioia, a third-year law student from Buffalo, N.Y.; Samantha Rutter, a second-year law student from Pittsburgh, Pa.; and Tabitha Voglewede, a second-year law student from Decatur, Ind. McWhorter served as student coach. Gioia and Rutter served as advocates, arguing alongside McWhorter, while Voglewede acted as a team researcher. Professor Brian Anderson, assistant director of the Democratic Governance and Rule of Law Program, served as the team's faculty coach and adviser
After advancing to the regional semifinal round in last year's 2015 regional competition, the team returned this year with even more success. Finishing second among 20 schools, the team won an award for the sixth best memorial (written brief), and all three advocates were among the top 30 ranked of nearly 80 students.
The Jessup International Law Moot Court Competition is the world's largest moot court competition, with participants from more than 550 law schools in more than 80 countries. The competition is a simulation of a fictional dispute between countries before the International Court of Justice, the judicial organ of the United Nations. One team is allowed to participate from every eligible school. Teams prepare oral and written pleadings arguing both the applicant and respondent positions of the case.