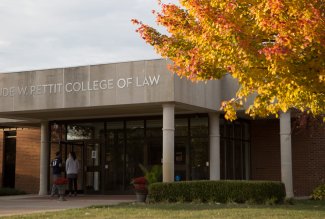 The Ohio Northern University Pettit College of Law has signed two agreements that will give select students at Trine University and the Indiana Institute of Technology faster paths to the completion of their law degrees. Trine University is located in Angola, Ind., and Indiana Tech is located in Fort Wayne, Ind.
The 3+3 Legal Education Admissions Program (LEAP) will allow students to complete their undergraduate educations and their law degree training in six years instead of the normally required seven. Students in this program pursue their fourth year of college at the ONU College of Law, and this will count concurrently toward both their undergraduate and law degrees.
Eligible students at Trine University must be majoring in English, general studies, criminal justice, psychology, communication or another major approved by the vice president of academic affairs of Trine University. Eligible students at Indiana Tech must be majoring in criminal law or pre-law. Under the agreement, students with the appropriate test scores and GPA will be guaranteed admission to Ohio Northern University's Pettit College of Law.
"For students interested in pursuing a legal education, the 3+3 program at ONU Law is a great opportunity to save on tuition costs and enter the workforce earlier," said Rachel Frey, director of law admissions at Ohio Northern University.
The ONU Law 3+3 program is currently offered with several other undergraduate institutions, including Ohio Northern University, the University of Findlay, St. John Fisher College, Emory and Henry College, and Notre Dame College.