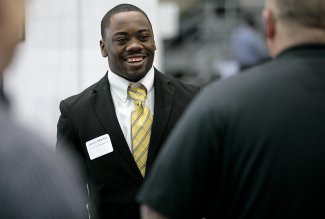 Ohio Northern University has been lauded as the best in the state for preparing students for success in their careers by the career-guidance site Zippia.
According to Zippia's rankings, ONU is first in Ohio and third in the nation with a placement rate of 95.5 percent. The site gauged employment rates for graduates a decade after graduation.
Ohio Northern offers a relevant educational experience that focuses on helping students develop the knowledge, professional proficiencies and analytical skills they need to succeed in a constantly changing job market.
Members of the ONU graduating class of 2017, for which the latest numbers are available, reported 95 percent job placement within six months of graduation.
The University takes a comprehensive approach toward preparing students for their future pursuits. ONU offers several internships, co-ops, on-campus work experience and other high-impact experiential opportunities that build on what is taught in the classroom.
Further, the Office of Polar Careers provides students with the resources they need to find their career paths. These services begin as the students start their college careers and are available after graduation. For example, freshmen are encouraged to begin constructing their résumés at orientation and continue revising them throughout their college careers. Also, many students take a career/grad school search strategies class that combines career search strategies as well as practical applications for their careers.
The University offers presentations to students throughout the year as part of the Emerging Professional Series and hosts career fairs on campus, including the largest in northwestern Ohio, that allow students to interview with prospective employers.
"We take our students' success seriously, and we look to help them develop the professional and personal skills they need to flourish in their professional and personal pursuits," said Justin F. Courtney, director of Polar Careers. "This is part of what makes the ONU educational experience so distinctive."
The ONU edge is paying off for recent graduates.
"Learning how to critically think and develop an understanding of the diversity of every major and person on the campus has led me to excel greatly in the therapy setting," said Jason Lucas, a physical therapist rehabilitation technician at Total Joint Rehab in North Ridgeville, Ohio. "Although two patients may have the same exact surgery on their knees, the road to recovery for those two different people may not be the same. Therefore, it is crucial to see the whole picture. This understanding has to lead me to be as successful as I have been this far in my career."
Lucas graduated in 2018 with a degree in exercise physiology.
"I definitely feel that ONU has given me an edge," said Amanda Everlove, who graduated with a doctor of pharmacy in 2017 and is currently a staff pharmacist at CVS Pharmacy in Columbus. "In addition to a wide and supportive alumni network, ONU's pharmacy program is extremely well-regarded, even by those outside the program. Being an ONU grad definitely sets me apart and gives me an edge."
Everlove balanced her academics with her training for the 2012 Paralympic Games in London.
"Being both an elite-level athlete competing at the highest level and an ONU student taught me time-management skills, while the pharmacy program gave me the knowledge, resources and critical-thinking skills to give my patients the best care possible. These combined traits have allowed me to be successful so far in my career and will continue to aid me in the years to come."