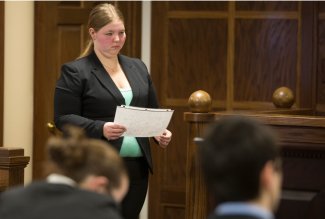 Ohio Northern University's mock trial program will host the 10th annual Polar Bear Invitational Mock Trial Tournament from Jan. 16-17. The competition will take place in ONU's Pettit College of Law, Hill Building and Dukes Memorial. More than 150 students from 12 colleges and universities representing six states will participate in the tournament.
The tournament consists of four rounds, with trials taking place simultaneously in each round. Each mock trial has a panel of two judges who evaluate students on their knowledge of the case material and their presentation and litigation techniques. On Saturday, the first round of the competition begins at 9 a.m., and the second round begins at 2 p.m. On Sunday, the first round begins at 8 a.m., and the second begins at 1 p.m.
The tournament gives honors to the top teams as well as outstanding attorneys and witnesses.
The case this year, as assigned to each mock trial group by the American Mock Trial Association, is criminal in nature. The facts of the case are as follows: In April 2015, Avery Bancroft became the first casino owner to be granted a second casino license by the Midlands Gambling Commission. The chair of that commission, Chase Covington, met privately with Bancroft several times leading up to the vote that granted the license. An undercover police officer alleges that these meetings were used to arrange for and provide a bribe to secure Covington's vote.     
Dr. Samantha Howe, assistant professor of political science and advisor of the ONU mock trial team, emphasized the benefits afforded to students involved in mock trial beyond awards and honors. "Students learn extensively from participation and from observing other teams about important life skills, such as public speaking and being able to understand both sides of an argument," Howe said. "Since many of our students are considering law school, these are invaluable experiences. Mock trial allows students to see if that's really what they want to do."
The teams participating this year are from the following colleges: Allegheny College, University of Dayton, University of Michigan, Michigan State University, Washington & Jefferson College, Hamilton College, Kent State University, Indiana University, Indiana University at Purdue (IUPUI), Northwood University, University of Pittsburgh, and St. Vincent College.