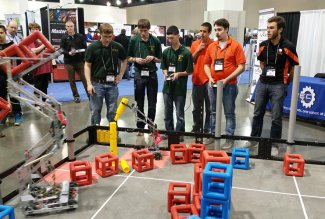 The Ohio Northern University Technology and Engineering Education Collegiate Association (TEECA) will host the ONU Polar Bear Classic VEX Robotics Competition in the ONU Sports Center on Friday, Jan. 8, at 10 a.m. The event is sponsored by the ONU Department of Technological Studies
More than 100 high school and middle school students, comprising approximately 30 teams from Ohio and one team from Michigan, are expected to compete for a chance to advance to the state competition in Marion, Ohio on March 4-5.
In the VEX competitions, presented by the Robotics Education and Competition Foundation, teams of students are tasked with designing and building a robot to play against other teams from around the world in a game-based engineering challenge. Classroom STEM concepts are put to the test on the playing field as students learn lifelong skills in teamwork, leadership, communications and more. Tournaments are held year-round at the regional, state and national levels; local champions go on to compete against the best in the world at VEX Worlds each April.
The VEX Robotics Competition is the largest and fastest-growing middle school and high school robotics program globally with more than 12,000 teams from 33 countries playing in more than 1,000 tournaments worldwide. Students, with guidance from their teachers and mentors, build innovative robots and compete year-round in a variety of matches.