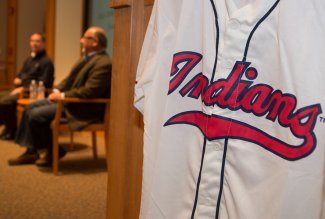 Robert "Bob" DiBiasio, the Cleveland Indians senior vice president of public affairs, and Jim Rosenhaus, the Indians radio announcer, will conduct a question-and-answer session from 9 a.m. to 10:15 a.m. on Feb. 7 in James F. Dicke Hall on the campus of Ohio Northern University. The event is free and open to the public.
DiBiasio, who has been with the Indians for more than 30 years, and Rosenhaus, who has been broadcasting the Indians since 2007, will discuss their respective roles with the Cleveland Indians, as well as the current state of the defending American League champion Indians.
DiBiasio, the brother of ONU President Daniel A. DiBiasio, began his career in 1979 as assistant public relations director and was named director of public relations in 1980. The Lakewood, Ohio, native was the 1999 recipient of the Robert O. Fishel Award for Public Relations Excellence in Major League Baseball. He also was inducted into the Lakewood High School Distinguished Alumni Hall of Fame in 1999. In 1986, DiBiasio was named the public relations director in Sports Illustrated's Dream Team. He also was the recipient of the Mel Harder Distinguished Service Award for Community Involvement in 1997. He has served as the president of Cleveland Indians Charities and is an honorary member of both the executive board of the Boys & Girls Clubs of Cleveland and the board of the Cleveland Baseball Federation.
In addition to his radio duties, Rosenhaus also hosts "Indians Warm Up" and "Tribe Talk" on WTAM. Prior to joining the Indians, Rosenhaus spent 11 years as the play-by-play voice of the AAA Buffalo Bisons. In 2012, he became Tom Hamilton's full-time broadcast partner. Rosenhaus serves as the play-by-play announcer during innings four and five and the color commentator for the rest of the game. With the Bisons, he announced 1,628 games (just 44 contests shy of the all-time record for most in team history held by Pete Weber). In 2011, Rosenhaus was inducted into the Buffalo Bisons Hall of Fame.