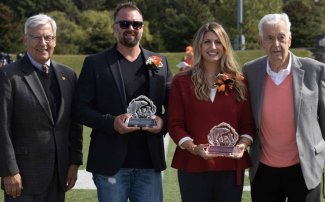 Ohio Northern University alumni Matt Brown and Megan Keller are the latest recipients to have received the William L. Robinson Young Alumni Award from their alma mater. The award was established by the ONU Alumni Association to honor individuals who have graduated from the University within the last 15 years and who demonstrate passion and loyalty toward their profession, community and alma mater.
Brown and Keller were recognized during ceremonies prior to ONU's Homecoming football game on Oct. 5. Bill Robinson and ONU President Daniel DiBiasio presented the awards.
Brown, a resident of Bellefontaine, Ohio, earned a bachelor's degree in business management from Ohio Northern in 2005. He is currently vice president of development for Small Nations, a real estate development company in Bellefontaine that specializes in revitalizing small towns. He graduated from Kenton High School.
A talented entrepreneur, Brown is also the founder and owner of Ada Ohio Properties, a housing investment and management operation in Ada, as well as Iron City Sports Bar in Bellefontaine. He was previously a landscape supervisor with The Brinkman Group in Columbus, area manager for American Valet Parking in Lima and a licensed insurance agent with Hays Insurance Agencies in Ada.
While with American Valet Parking, Brown was named manager of the year in 2009. During his time with Hays Insurance, he published "The Insurance Xperience: The Ultimate Guide to Success for Young Professionals" and spoke at conferences on the topics of marketing and digital marketing.
Brown's community service includes involvement in organizations such as Toastmasters, Lions Club and Rotary International Club. Since graduating from college, he has remained engaged with ONU by sharing his expertise with current students, speaking before classes in ONU's Dicke College of Business Administration on entrepreneurship and other business topics.
While an Ohio Northern student, Brown was active on campus in Black Rose Rugby Club and intramural basketball, as well as screenwriting workshops and conferences.
Keller, who now resides in Columbus, Ohio, earned a PharmD degree, with a minor in public health, from Ohio Northern in 2011. She is currently a medication safety/antimicrobial stewardship pharmacist with OhioHealth Physician Group (OPG) in Columbus. She graduated from Fairfield Union High School in Lancaster.
An innovative clinician, Keller leads the execution of key strategic initiatives for OPG such as the Comprehensive Diabetes Program, a multidisciplinary approach to diabetes care, and coordinating strategies to optimize the use of antibiotics.
Recently, she led a vaccine safety initiative that reduced errors by more than 50 percent across approximately 200 OhioHealth physician practices and urgent care facilities. Her efforts in this area were recently featured in a national webinar. She is also a board-certified Ambulatory Care Pharmacist and Certified Diabetes Educator.
Keller is also active in her community. She earned the 2014 Rising Star Award from the Junior League of Columbus, as well as the organization's 2017 President's Award for volunteerism, community impact and women's leadership development.
She has also stayed engaged with her alma mater. Keller was an assistant clinical professor of pharmacy at ONU from 2012 to 2017. Additionally, she has served on the Raabe College of Pharmacy Advisory Board and as a "white coat" mentor, and she has given lectures and didactic experiences for Ohio Northern pharmacy students.
While an ONU student, Keller was active in Student Senate, Student Planning Committee, and several pharmacy professional organizations, including American Pharmacists Association Academy of Student Pharmacists, Student Society of Health-System Pharmacists, Ohio Pharmacists Association and National Community Pharmacists Association. Further, she participated in a medical mission trip to Kenya during her college career.
The Young Alumni Award is named in honor of Bill Robinson, who exemplifies the ONU spirit. He devoted 45 years of service to the University and has mentored and counseled countless ONU students. Robinson remains a staunch supporter of ONU's mission, values and vision.