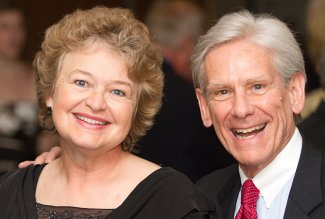 A ceremony will be held at 9 a.m. Sept. 23 to dedicate the Baker Commons area at Ohio Northern University in honor of President Emeritus Kendall Baker and former ONU first lady Toby Baker. The event will be held near Affinity Village, located along Polar Bear and Loop Road, just south of the Freed Center for the Performing Arts. The ceremony is part of the University's Homecoming activities.
Kendall Baker joined Ohio Northern in August 1999 as its 10th president. Under his leadership, the student academic profile elevated significantly, enrollment grew steadily, and the campus showed a marked increase in the number of out-of-state, international and multicultural students. The University also completed a $100 million comprehensive campaign, the largest in University history. Programmatically, the University added, among others, an LL.M. program in democratic governance and the rule of law and undergraduate degrees in forensic biology, pharmaceutical business and nursing during Kendall Baker's tenure.
Kendall Baker also oversaw the development of the Baker Commons area, which includes the Dicke House, Stadium View Apartments, Klondike's Den, Polar Place, Dial-Roberson Stadium, the Remington Walk, Northern Commons and the Affinity Village.
Toby Baker was very involved with the University and the community during her time as ONU's first lady. She also is an alumnus of Ohio Northern, having earned a Bachelor of Fine Arts in studio art from the University in 2006. Currently, she is working as an artist focusing on sculpture and painting.
At the upcoming event, ONU President Daniel DiBiasio will provide the welcome. 
Retired ONU Vice President and Dean of Enrollment Karen Condeni will deliver remarks, as will Kendall Baker.