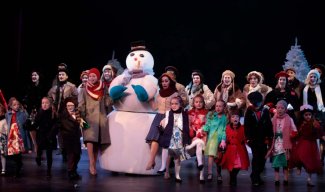 A regional holiday entertainment tradition will mark a landmark anniversary this season when the curtain rises on "The ONU Holiday Spectacular" for the 25th edition of this popular musical extravaganza.
The show will be presented in Ohio Northern University's Freed Center for the Performing Arts at 7:30 p.m. on Nov. 21, Nov. 22 and Nov. 23, with a matinee performance at 2 p.m. on Nov. 23. It also will be presented at the Lima Veterans Memorial Civic and Convention Center at 7:30 p.m. on Dec. 6 and Dec. 7, with matinee performances at 2 p.m. on Dec. 7 and Dec. 8.
The fully staged musical revue ushers in the holiday season and includes dancing and singing while showcasing the performance talents of ONU students and area children. "The ONU Holiday Spectacular" features festive carols, lavish sets, ballerinas, toy soldiers and St. Nick himself. It is set in places such as the North Pole, Toyland, Santa's Workshop and Lima, Ohio.
Among the student performers are Raymond Cronley of Oxford, Ohio, as Tinsel; Sarah Matlow of Toledo, Ohio, as Trixel; Emily Estep of Fresno, Calif., as Angel; alumnus Shawn Stevens of Lima, Ohio, as Santa; Grace Raber of Plano, Texas, as Mrs. Claus; and Ethan Mann of Wooster, Ohio, as Frosty.
In all, approximately 34 ONU students, 16 teens and 25 children are part of the cast as singers, dancers and other performers.
The performance is under the direction of Kirsten Osbun-Manley, resident artist in music at ONU. Gina Wiley, artistic director and owner of The Dancer by Gina in Delphos, Ohio, serves as choreographer, and Michael Jordan, resident artist in the ONU Department of Theatre Arts, is music director.
Tickets for the Freed Center performances are $20 for adults, $10 for senior citizens, and $5 for children 12 and under. The Freed Center box office is open Monday through Friday from noon to 5 p.m., and Saturday from 10 a.m. to 2 p.m. Phone orders are accepted with American Express, MasterCard, VISA or Discover by calling 419-772-1900.
All tickets for the Lima performances are for general-admission seating and are available for $5 at all Kewpee Hamburgers locations and at the Freed Center.
The show is underwritten in part by the DeBow and Catherine Freed Endowment for the Performing Arts and Kewpee Hamburgers. Marking more than two decades of sponsorship, Harry and Myrna Shutt, the owners of Kewpee Hamburgers, have underwritten "The ONU Holiday Spectacular" since its inception in 1994. The Shutts have maintained the price at $5 for the Lima performances to ensure the show is affordable for families.
RICHNESS OF NOSTALGIA FUELS SHOW'S SUCCESS
The show's staying power is largely found in its ability to capture the essence of the holiday season.
"While we always try to add something new every year, whether it be a song or a character, we keep the general formula of the show the same. From the beginning, that formula includes familiar Christmas music, which makes people feel nostalgic and happy," Osbun-Manley said. "People connect to traditional Christmas music. It reminds us of when we were children and conjures up feelings of warmth and goodwill."
"The show brings so much happiness and cheer to those in the audience. While life can be filled with anger and negativity, people can leave their troubles outside the door and be drawn into a magical world for an hour and reflect upon the things that matter," Osbun-Manley said.
Osbun-Manley has been involved with the extravaganza in some capacity since its inception in 1994 and has been the show's director since 2007. The show's longevity is matched only by its popularity. For the past 12 years, approximately 9,000 people annually have viewed the performance at both ONU and in Lima.
From the beginning, Osbun-Manley knew the "Holiday Spectacular" was a long-term proposition.
"Because of its ability to help people connect to Christmas and all it involves, I thought from the beginning that the ONU Holiday Spectacular would be long-lasting," she said. "It serves an important role in bringing joy to people's lives, and that matters."